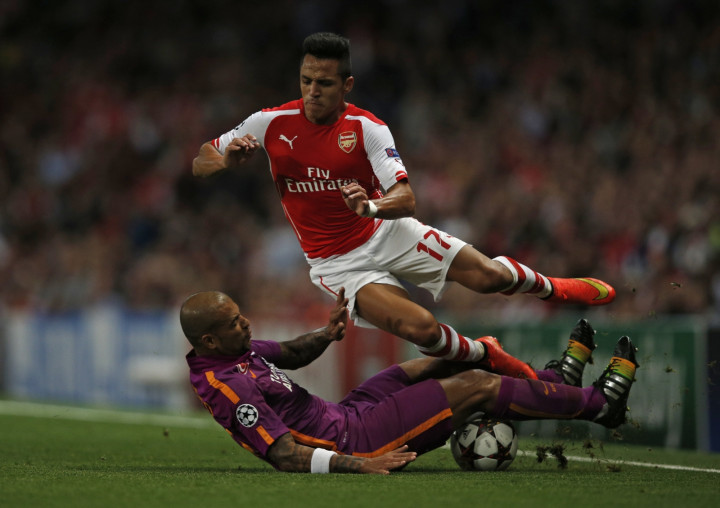 Mathieu Flamini believes that Alexis Sanchez can be as good as Robin van Persie or Thierry Henry for Arsenal after a promising start to his Gunners career for the Chilean.
The 25-year-old has already scored eight goals thus far in the campaign and is going from strength to strength as he acclimatises himself to the rigours of Premier League football. The former Barcelona man has carried the team on his own at times, scoring a brace against Sunderland, handing Arsenal only their third win in nine matches thus far.
However, it will be a tall order for the Chilean to emulate Henry, who has scored 228 goals for the club and is their highest scorer by far in all competitions. The Frenchman is arguably the best player to have plied his trade in the league - he led the Gunners to two league titles and also the finals of the UEFA Champions League, where they lost 2-1 to Barcelona.
"From what we have seen so far of him, he is right up there [with Henry and van Persie]," Flamini said.
"He is proving it in every game he plays, not just with his goals but the way he works for the team.
"[Alexis Sanchez] is a breath of fresh air to play with. He gives so much for the team and not just in an attacking sense. I didn't realise he works so hard off the ball. Not just creating space for others but helping out defensively. He is a top player and has already made a big difference.
"Normally a player with his talent and goals would be satisfied with that but he gives more with his work-rate. When you see someone like him working so hard, it sets an example for all of us to follow," the Frenchman added.
The Gunners will host Burnley next at the Emirates as they look to kickstart their campaign and close the gap on Chelsea, who are breezing ahead and yet to concede defeat in the league.