Barcelona are ready to battle with Manchester City, Manchester United and Bayern Munich for the transfer of German defender Mats Hummels, according to reports in Spain.
According to El Mundo Deportivo, a Barcelona-based sports paper with close links to the Nou Camp, Hummels "has returned to Barcelona's radar as they look to reinforce their defence. He is the player the [Barcelona] technical secretariat likes the most."
El Mundo Deportivo also recalls a conversation with Hummels during Euro 2012, when the paper put the rumours of Barcelona's interest to the Borussia Dortmund player.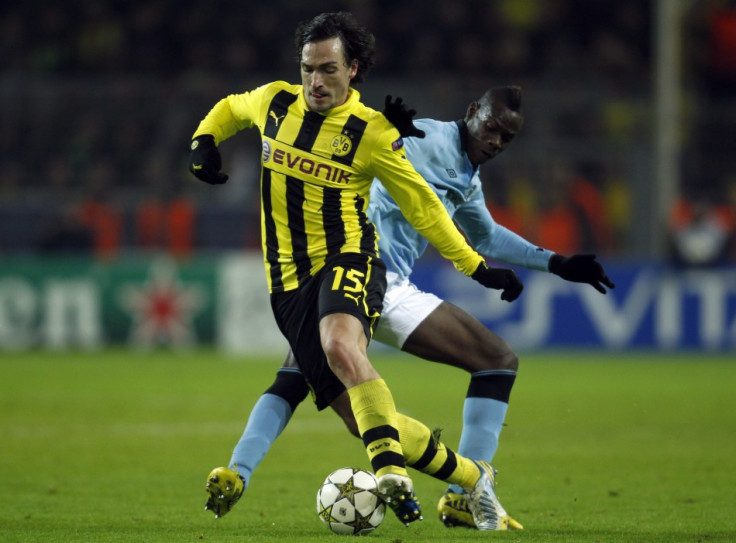 Hummels said that it would be an "honour" to play for Barca, and admitted he was playing for a "smaller team" in Dortmund.
Although Hummels has been strongly linked with Bayern Munich in recent weeks, he is also being monitored by City and United, who are both anxious to secure reinforcements in defence.
While United have regularly conceded the first goal in Premier League games this season, City manager Roberto Mancini is seeking a new partner for Vincent Kompany at the heart of his back four, despite the potential shown by Matija Nastasic.
Last month IBTimes UK revealed that City were attempting to sign Hummels and his Dortmund defensive partner Neven Subotic, after a string of defensive errors which cost the champions vital points in their pursuit of United in the league.
In October last year, Hummels admitted he does plan to leave Dortmund at some stage, but only when the time is right.
"One day I will say that I am keen on a transfer," Hummels told BILD.
"To play football in a new country would be flattering. I already had offers and one enquiry from these offers was really one of interest for me.
"But I told myself that the time is not right for such a move. There was a reason behind my recent contract extension. When you are a Borussia Dortmund
player then you do not move to all clubs.
"In the Bundesliga it would just be about Bayern Munich,
but this club has no shortage in my position. In Europe there are just about four to five clubs that would really interest me."