Mauricio Pochettino has claimed that Tottenham Hotspur are still in the race for the Premier League title after a 2-0 win over Arsenal left Spurs only four points behind Chelsea with four games remaining.
The Argentinian boss hailed the "fantastic" performance of Victor Wanyama after the former Southampton star impressed in the middle of the park.
Spurs responded to Chelsea's 3-0 win at Everton by securing a convincing victory in the last-ever North London derby at White Hart Lane thanks to goals from Dele Alli and Harry Kane in two second-half minutes. The Blues could drop three points in the four games remaining and still claim the title but Pochettino insisted that the race was not over just yet.
"We are in the race for the title and we once again reduced the gap with Chelsea. That is for us to be focused on now as Friday we have another important game, against West Ham," Pochettino said.
He admitted his disappointment at not being able to reduce the gap with Chelsea but was still happy with Spurs' impressive performance.
"Disappointed about what? About Chelsea? After 2-0 against Arsenal here? Do you believe that we are disappointed?
"They know and they need to be proud about their performance. They now need to rest and don't think too much and enjoy tonight. Tomorrow they have a day off."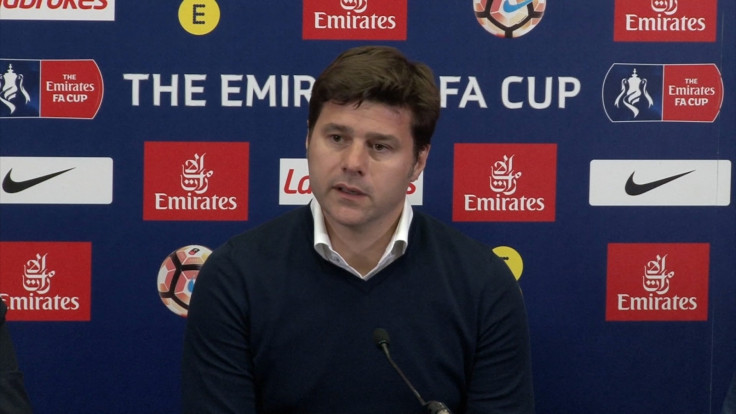 "Tuesday it's time to start to be focused again to be ready to play on Friday," he continued. "We are four behind with four games to play. All is possible in football. We'll see what happens next week.
"Now it's a moment to feel proud, feel happy, for everyone who loves Tottenham it was a fantastic afternoon."
Alli and Kane scored the goals but Wanyama made arguably one of his best performances since his £11m arrival from Southampton in the summer.
"This season he's been doing that – it's fantastic. Today was good. Second half was fantastic. He was key in some action," Pochettino said.
"I am very pleased but I am very pleased for all the squad because we are fighting a lot through the whole season."