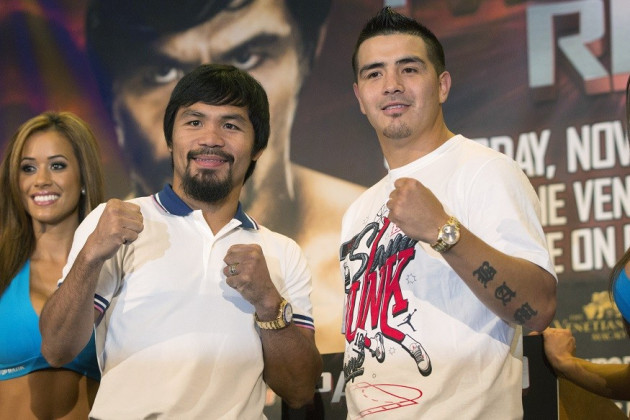 Freddie Roach believes that there is still a possibility that Floyd Mayweather could be drawn into a fight with Manny Pacquiao because of the huge financial benefits that come with fighting the Filipino legend.
Pacquiao is looking to get his career back on track when he faces a stern test against the durable Brandon Rios on 23 November in Macau, China. The 34-year-old has been out of action since being brutally knocked out at the hands of Juan Manuel Marquez in December 2012 but still feels he can mix it at the very highest level.
"It's one of the most important fights of my career because I want to show my fans and the world that I can still compete at a high level with elite boxers," Pacquiao told Sky Sports. "I am expecting to win this fight. It's a really important fight for me in my boxing career because I lost the last two."
"I feel comfortable and confident about going on to win this fight, but I am not looking to retire if I lose this fight. My motivation is that boxing is in my blood. I enjoy it and I like to entertain my fans worldwide."
Despite losing to Tim Bradley and then to Marquez, there is a feeling that Pacquiao could still face the very best fighters out there if he comes through his test against Rios. And his trainer, Roach, has even suggested that a super-fight with Mayweather could still be on the cards because of the amount of money that could be earned from the bout.
"Mayweather's in the same position [Pacquiao] is. You've only got eight fighters in the world that can sell on pay-per-view and make money. That's why I give it a shot. I still have hope," Roach told philstar.com.
Mayweather is currently searching for a new opponent after easily defeating Mexican sensation Saul Alvarez. Pacquiao conqueror Bradley and British sensation Amir Khan have both been mooted as potential opponents but there are no contracts in place.
The American is scheduled to fight twice in 2014, in May and September, and it is clear that when it comes to picking opponents 'Money Mayweather' always thinks about the financial rewards on offer.
Even though Pacquiao's star status has somewhat faded, should he defeat Rios then fight fans may once again discuss whether he could be the man to inflict a first loss on Mayweather.
The two have come close to facing each other on several occasions but should Mayweather feel Pacquiao is the fighter than can deliver the biggest purse, then the matchmakers may finally be able to put together the right deal.