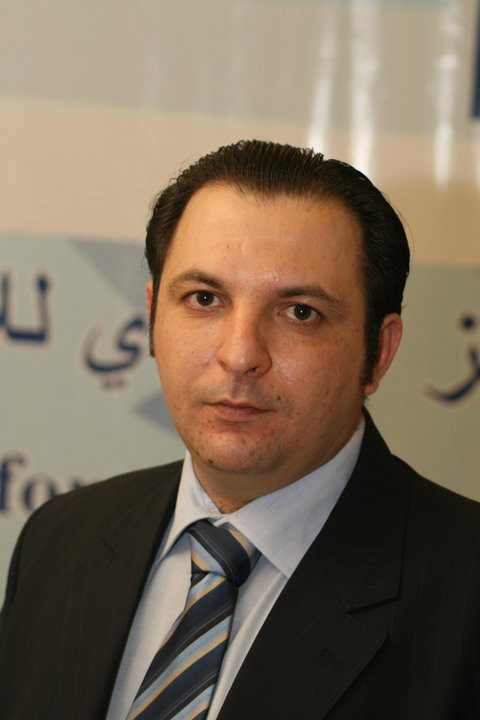 Mazen Darwish, a prominent Syrian rights activist and president of the Damascus-based Syrian Centre for Media and Freedom of Expression (SCM), has been freed after more than three years in prison, according to his wife.
Yara Bader, a journalist who has relentlessly fought for Darwish release since his arrest in February 2012, told AFP that the activist has been freed pending a final verdict on his case due 21 August.
The news was confirmed by the SCM on Facebook:
A lawyer and journalist himself, Darwish worked along with his staff at the SCM to document human rights abuses as peaceful protests in Syria turned violent when forces loyal to President Bashar al-Assad started firing at the crowd. He had founded the centre in 2004 to protect media freedom and support journalists' rights and became a major source of information for foreign media after the outbreak of the civil war.
On 16 February 2012, Air Force Intelligence agents in plain clothes raided SCM's office in Damascus and arrested all 16 members, including Darwish's colleagues Hussein Ghreir and Hani al-Zaitani, who were released in July 2015 in an amnesty announced as a gesture for the Muslim holiday of Eid al-Fitr. Darwish's wife was also arrested and then released in May that year.
The activist was reportedly held in incommunicado detention for several months, with no news of his whereabouts and status. Fellow detainees reported that he was subjected to torture and other ill-treatment. He was convicted for the first time on 5 February 2013 on terrorism charges, including an attempt to "stir the internal situation in Syria and so provoke international organisations to condemn Syria in international forums".
The UN General Assembly issued a resolution in May 2013 demanding his immediate release. He was declared prisoner of conscience by Amnesty International and more than 20 international human rights organisations cosigned a letter to demand his release.
Instead, Darwish was was charged with "publicising terrorist acts". If convicted, he faced prison terms of up to 15 years.
In October 2014, world-renowned writer Salman Rushdie decided to share the annual PEN Pinter International Writer of Courage Award with him. PEN reacted to the news of his release on Twitter:
Other awards include the UNESCO's annual press freedom prize, which was accepted by Bader on his behalf. She said that the award was dedicated to his children in the hope they would grow up in a free Syria.
"We need a time to learn how to listen to people who have different opinions," she said. "Mazen has already forgiven those who tortured him almost to death."
The International Press Institute also named him in March as its 67th world press freedom hero.