A hotel chain in Silicon Valley has unveiled Botlr, the world's first robot butler, which will work as a bellhop shuttling items between the hotel lobby and guests' rooms.
Aloft Hotels in Cupertino, California, is situated opposite Apple in Silicon Valley and is known for its high tech hospitality, which includes Apple TV in-room services and interactive software known as "Cool Concierge" which looks up any information the guest might need.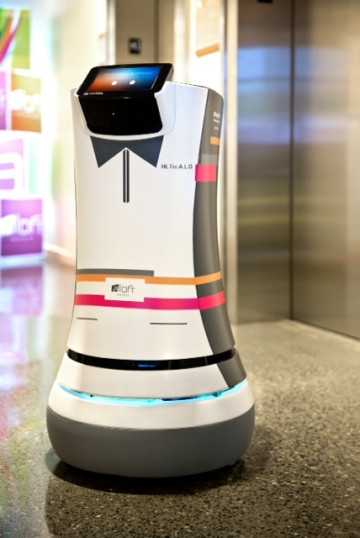 The three-foot tall robot was made by robotics start-up Savioke, which recently created the SaviOne robot as a delivery robot for the services and care industry.
Aloft's Botlr comes "professionally dressed" with a vinyl uniform, complete with a bow-tie and a name tag, and has been christened "ALO" by the hotel.
Moving at a speed of 4mph, Aloft claims that its new robot is able to deliver amenities from the front desk to any of the 150 hotel rooms within three minutes of less.
His eyes look out at customers from a built-in touch screen that allows customers to send a message back to the front desk to confirm whether they received the items they requested, and they can also rate ALO's service.
ALO beeps to say hello and does a happy dance if guests give him a good rating, showcasing a personality much like R2-D2 from Star Wars.
To tip the robotic bellhop, all you need to do is send him a tweet on Twitter at @AloftHotels.
"As you can imagine, hiring for this particular position was a challenge as we were seeking a very specific set of automated skills, and one that could work – literally – around the clock," said Brian McGuinness, global brand leader of Starwood Hotel and Resort's Specialty Select Brands, which owns Aloft Hotels.
"As soon as ALO entered the room, we knew it was what we were looking for. ALO has the work ethic of Wall-E, the humour of Rosie from The Jetsons and reminds me of my favourite childhood robot, R2-D2. We are excited to have it join our team."
Starwood says that ALO will save the hotel staff a lot of time and free them up to interact better with guests. ALO will start his new role on 20 August and Aloft hopes to roll out the robot to other branches of the hotel in future.