Internet entrepreneur Kim Dotcom will launch a new version of his file-sharing site Megaupload this weekend exactly one year after the original was shut down by US prosecutors.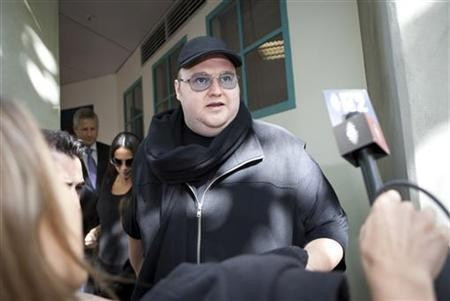 Named 'Mega' the new website (www.mega.co.nz) will offer users 50GB of free cloud storage space, much more than competing SkyDrive (7GB free) and Dropbox (2GB free) services. However details of how the site will work remain shrouded in mystery though it is expected that it will offer similar file-sharing services as Megaupload.
When asked in October whether the US government could also close down Mega, Dotcom said: "That will be impossible. Trust me."
The new site will use state-of-the-art encryption and decryption methods which will allow only the user to see their files, and not the administrators. "The new Mega encrypts and decrypts your data transparently in your
browser, on the fly. You hold the keys to what you store in the cloud, not us," the site says. This could theoretically stop authorities from accusing Dotcom of knowingly aiding online piracy.
At the time it was shut down, Megaupload was so popular it was responsible for 4 percent of all internet traffic, with 50 million daily visitors. the Us government is seeking Dotcom's extradition from New Zealand on charges including money laundering, racketeering and copyright theft. They say he cost copyright holders $500 million (£313m) by allowing users to download pirated material.
Dotcom will launch the Mega service on Sunday in New Zealand (Saturday in the UK) with a lavish party at his Auckland mansion. To promote the new service, Dotcom channeled Willy Wonka earlier this week giving out free ice-cream with Golden Tickets to the launch party hidden inside.
An ad-campaign to promote Mega has been cancelled by advertising agency MediaWorks and Dotcom told reporters in New Zealand earlier this week that he believes the recording industry was behind the decision:
"I can tell you that we know that it was the content industry that got MediaWorks to pull that, so that confirmation we have. We don't know who in particular. It's not even launched yet, they don't even know what's coming and they're already saying 'it's all wrong, it's all illegal and stop playing these radio ads'," the New Zealand Herald reports.
Megabox
Dotcom, real name Kim Schmitz, is also planning another new service called 'Megabox' which will allow users to download music for free in exchange for listening to adverts - though it's unclear how this will work. Spotify, one of the most popular music services on the web, only allows for free, ad-sponsored streaming of music rather than free downloads.
Dotcom said that 90 percent of the revenue generated by Megabox would go to recording artists and that the service would be "unchaining artists and fans" to do business with one another.
No release date for Megabox has been confirmed, although Dotcom has told Torrent Freak that "Megabox will launch a few months after Mega."
As well as offering users 50GB of free space, Dotcom has also said that he wants to give users back any material that was lost when Megaupload was closed down. Writing on Twitter he said "I was hopeful we could give premium status to former Megaupload premium users on #Mega. Our lawyers say we can't at this time. We're working on it."
Shut down
Megaupload was shut down by the US government on 19 January, 2012, amid allegations of copyright infringement. By that point, according to Ars Technica, the site had made more than $175 million in profit since launching in 2005.
Last January authorities in New Zealand raided Dotcom's Auckland mansion as part of the world's largest online piracy case. Dotcom was arrested and spent more than a month in jail while his bank accounts were forzen and his property - including a dozen luxury cars and valuable artwork - were seized.
The New Zealand High Court's legal case against Dotcom has been fraught with reports of illegal activity and misconduct. In June, 2012, it was found that the warrants issued to raid Dotcom's house and seize his property were invalid, meaning he would be allowed to access some money from his bank account, which had originally been frozen, to pay legal costs and rent on his mansion.
In September, 2012, New Zealand Prime Minister John Kay apologised to Dotcom after it was revealed that the Government Communications Security Bureau (GCSB) had illegally spied on Dotcom. The GCSB is not permitted to monitor New Zealand citizens:
"It is the GCSB's responsibility to act within the law, and it is hugely disappointing that in this case its actions fell outside the law. I am personally very disappointed that the agency failed to fully understand the workings of its own legislation," said Kay in an official statement at the time.
The US government is still battling to have Dotcom extradited to the United States where he is wanted for money laundering, racketeering, fraud and copyright infringement, and he could face a prison sentence of up to 20 years. However, Dotcom's extradition hearing has now been pushed back until August, 2013, after originally scheduled to be held in March. No reason was given for the delay.