UK residents especially those living in London are being warned that dust from a Saharan storm could be a contributing factor to one of the worst smogs of the year, expected later this week.
Southerly winds from north Africa already blanketed cars with sand in the South West last weekend, mostly affecting Devon and Cornwall, and there is more dust to come, the Met Office has warned.
A Met Office spokesman said: "A lot will depend on how big the storm is and how much sand it will pick up on the way. But it is likely it will affect the south of the country."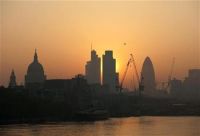 Paul Hutcheon, deputy chief forecaster, said: "We usually see this happen several times a year, particularly in summer when you get these big dust storms in the western Sahara and the southerly winds to bring that dust here."
The Department for Environment, Food and Rural Affairs (Defra) is predicting the high levels of air pollution in England and Wales tomorrow and Wednesday.
In light of the "very high level" of pollution expected this week Defra warned that adults and children with lung and heart problems, including older people, should avoid strenuous physical activity, adding that "people with asthma may find they need to use their reliever inhaler more often".
London Assembly Green Party Member Jenny Jones said: "More and more Londoners are getting more and more concerned about the dangerous levels of air pollution in our capital.
"Rather than solving the problem the Mayor seems intent on making the problems worse, backing new road building schemes and increased airport capacity. We need firm action to deliver cleaner vehicles as well as reduce the overall level of traffic on our roads."
Defra's Recommended Actions and Health Advice
| Air Pollution Banding | Value | Accompanying health messages for at-risk individuals* | Accompanying health messages for the general population |
| --- | --- | --- | --- |
| Low | 1-3 | Enjoy your usual outdoor activities. | Enjoy your usual outdoor activities. |
| Moderate | 4-6 | Adults and children with lung problems, and adults with heart problems, who experience symptoms, should consider reducing strenuous physical activity, particularly outdoors. | Enjoy your usual outdoor activities. |
| High | 7-9 | Adults and children with lung problems, and adults with heart problems, should reduce strenuous physical exertion, particularly outdoors, and particularly if they experience symptoms. People with asthma may find they need to use their reliever inhaler more often. Older people should also reduce physical exertion. | Anyone experiencing discomfort such as sore eyes, cough or sore throat should consider reducing activity, particularly outdoors. |
| Very High | 10 | Adults and children with lung problems, adults with heart problems, and older people, should avoid strenuous physical activity. People with asthma may find they need to use their reliever inhaler more often. | Reduce physical exertion, particularly outdoors, especially if you experience symptoms such as cough or sore throat. |