Mexican Grand Prix 2015: Where to watch race live, qualifying review and drivers' reaction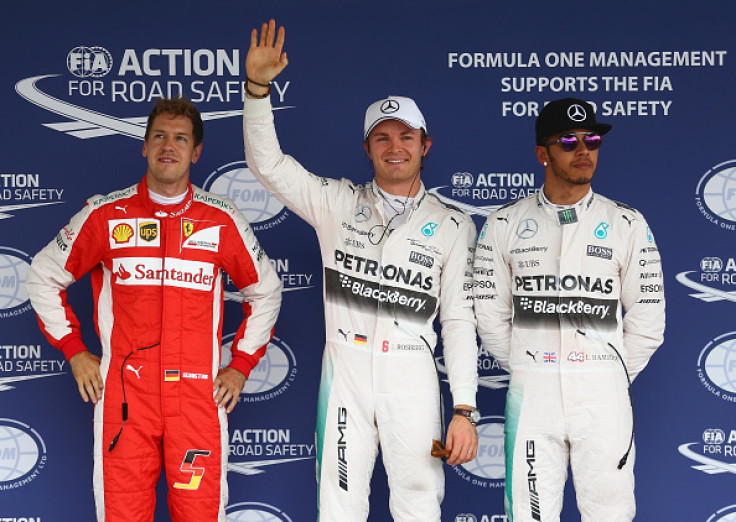 Nico Rosberg took his fourth consecutive pole position of the season, beating teammate and newly-crowned Drivers' world champion Lewis Hamilton. The German, however, has failed to convert any of them to race victories.
Sebastian Vettel was third ahead of the two Red Bull cars of Daniil Kvyat and Daniel Ricciardo. The two Williams line up in the sixth and seventh places ahead of Verstappen, home favourite Sergio Perez and Nico Hulkenburg, who rounds out the top ten.
Kimi Raikkonen had a disastrous qualifying, which started from FP3, when a fire forced him to miss the entire session, following which a gearbox change was necessary. This handed the Ferrari driver a five-place grid penalty and his exit in the second session of qualifying, will see him start in the 18<sup>th place, only ahead of the two McLaren-Honda cars of Fernando Alonso and Jenson Button, who are both serving grid penalties due to an engine change in their cars.
Rain is not expected during the race, and with it being a new track surface, drivers should opt for a one-stop race. But if the rain arrives, it could throw up a few surprises, especially with the barriers being close to track, a safety car period cannot be ruled out.
Where to watch live
The race starts at 7pm GMT (Sunday) with Sky Sports F1 and Sky Sports F1 HD providing live TV coverage. Real-time internet updates are available on the Live Timing section of the sport's official website.
Live updates will be available on the IBTimes UK website from 6pm GMTonwards.
Drivers' reaction
Nico Rosberg (Mercedes) – P1: "I'm quite pleased with the first half of the weekend. I have to thank my engineers because we nailed the setup and I felt great in the car. I did a pretty cool lap in Q3, which I wasn't able to improve on the second run. But tomorrow is the day and it will be a great battle for the win between the top five - especially as we didn't have much time to practice long runs. Sebastian and the two Red Bulls look strong but I'm very confident that our car is the best prepared for the circumstances."
Lewis Hamilton (Mercedes) – P2: "It was great out there today. I really enjoyed driving and we have an amazing crowd here too. They're constantly cheering, which is great to see. The track got grippier so it was more fun to drive and it was quite a relaxing qualifying session in general, with no real stress. At some races pole really makes a difference. But at this one it I don't really mind being second because it's an long long way down to Turn 1 and I plan on getting a good start tomorrow."
Sebastian Vettel (Ferrari) – P3: "To be fair, when I woke up this morning and even after P3, I thought we would be a bit closer to the Mercedes than we actually were in qualifying: unfortunately, they proved to be very strong. They were doing two consecutive laps, they were not using all the energy in one lap, so we need to be careful as I think they will be very quick also tomorrow in the race. But we will try our best, we are here to fight, we have nothing to lose. Nico is the primary target, we want to keep second position in the championship and we'll do everything we can to achieve that."
Daniil Kvyat (Red Bull Racing) – P4: "Qualifying was interesting today. It was all quite clean in Q1 and Q2, but the track is new and it's very easy to make a little mistake that can be quite costly, so perhaps no one had the ideal lap in Q3. I think P4 reflects our speed; I could have maybe been a couple of tenths quicker in Q3 but anyway it wouldn't have put us any higher, as P3 was quite a long way ahead. We have done our best today and it gives us some good opportunities for tomorrow."
Daniel Ricciardo (Red Bull Racing) – P5: "Practice looked really good but then all through Qualifying I wasn't really that happy. We just struggled to find the right feeling with the car and the set-up. The asphalt was changing every time. It had a bit of grip and then it didn't so it's challenging. We didn't change much to the car but it's one of those sessions where you always try to find that little bit more but it never came in the end. I knew that Ferrari and Williams would try to give us a real challenge."
© Copyright IBTimes 2023. All rights reserved.