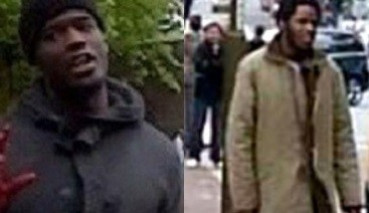 Two men accused of the murder of Fusilier Lee Rigby in Woolwich, southeast London, have pleaded not guilty.
Michael Adebolajo, 28, and Michael Adebowale, 22, are accused of murdering the soldier in a daylight attack near his barracks. Adebolajo also pleaded not guilty to the attempted murder of two police officers.
Both men denied an additional charge of conspiracy to murder. They pleas were lodged in the Old Bailey via videolink from Belmarsh prison.
Rebecca Rigby, the widow of the murdered soldier, broke down in tears as they made their pleas.
Judge Justice Sweeney scheduled a trial to begin on 18 November.
Rigby, 25, died as he made his way back towards the Woolwich barracks. The incident was described as a terrorist attack.
Adebowale, from Greenwich, southeast London, is accused of murdering Rigby on 22 May and possessing a firearm, a 9.4mm KNIL model 91 revolver.
Adebolajo, from Romford, east London, is charged with the attempted murder of Rigby, the attempted murder of two police officers and possession of a firearm with intent to cause others to believe that violence would be used.
A post-mortem confirmed that Rigby died as a result of "multiple incised wounds". An inquest revealed that the extent of his injuries was so severe that he had to be identified through dental records.