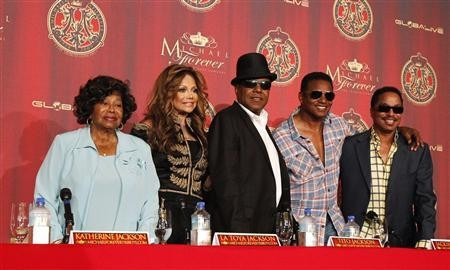 Tickets for the Michael Jackson tribute concert in Cardiff go on sale today.
The opening of ticket sales for the 8 October, Michael Forever Tribute Concert, comes soon after Beyoncé confirmed that she will perform at the tribute concert for the late Michael Jackson via satellite.
Organisers are continuing ahead with the concert despite the growing numbers of fans signing online petitions calling for it to be cancelled, reports Wales Online.
Outraged fan club officials urged the late pop star's mother, Katherine, and other organisers to axe the event, claiming it is "doomed to fail" reported Contact music.
Beyonce will join other confirmed artists Leona Lewis, JLS, Christina Aguilera, Pixie Lott and Cee Lo Green at the Michael Forever show at Cardiff's Millennium Stadium.
The event will be organised by Jackson's mother and siblings in conjunction with Global Live Events, with all proceeds going towards U.S. and UK charities.
The likes of JLS, Alexandra Burke, Pixie Lott, Craig David and Smokey Robinson will also perform at the gig on 8th October at Cardiff's Millennium Stadium.
Organisers Global Live Events say several more announcements are expected in the coming weeks confirming other "major artists", quoted Wales Online.
U.S. director of Global Live Events, Paul King said: "This concert will span generations and musical genres, reminding everyone of just how amazing was Michael's talent."
Tickets can be bought from www.michaelforevertribute.com and TicketlineUK in Cardiff, and range from £55 to £240.