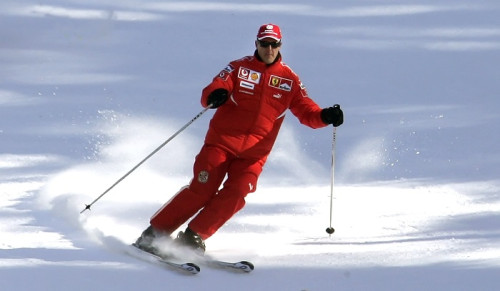 Michael Schumacher has contracted a lung infection at the French hospital where doctors are battling to bring him out of a coma, German media has reported.
Medics at the University Hospital in Grenoble have been administering antibiotics to the 45-year-old, F1 legend since he contracted a form of pneumonia last week, tabloid Bild reported.
Schumacher's spokeswoman, Sabine Kehm, dismissed the report as speculation.
"I do not comment on speculation," Kehm told the newspaper, Germany's biggest daily.
The paper said it was not clear what consequences the infection would have on the process to wake Schumacher from his unconscious state.
The German ace has been treated at the Grenoble Hospital since he banged his head on a rock at Meribel ski resort in the French Alps last December.
The force of the impact was so hard that it cracked his ski helmet in two.
The seven-time world champion lay in a medically induced coma for five weeks after the incident.
Two weeks ago, medical staff started slowly reducing the amount of sedation administered to Schumacher in the aftermath of his accident, to help the brain recover from serious injuries by reducing activity.
"Michael's sedation is being reduced in order to allow the start of the waking-up process which may take a long time," his family said.
Last weekend the hospital was forced into denying that Schumacher had died, after false death rumours spread online.
Wife Corinna, 44 insisted her husband was a "fighter" who will not give up.