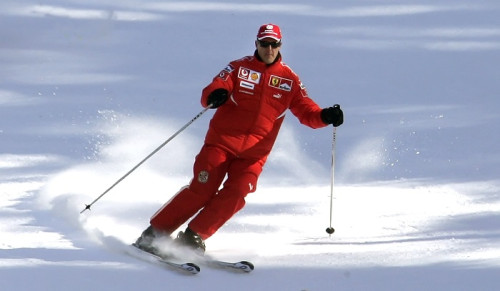 Michael Schumacher's wife is talking to the stricken Formula One legend every day as efforts continue to end his coma.
The former Ferrari ace remains unconcious two weeks after efforts began to lift the coma at Grenoble hospital in France. The German ace has been treated there since he banged his head on a rock at Meribel ski resort in the French Alps last December.
German tabloid Bild-Zeitung reported efforts by Corrina Schumacher at the 45-year-old's bedside are not yet having any discernible effect and the German remains unresponsive to direct stimuli.
Also taking part in the talking sessions has been Michael's younger brother Ralf – who used to be a Formula One driver himself. Michael's son Mick, 14, has also been present. He was on the slopes when the crash happened last year.
According to a neurosurgeon, talking to a patient in Schumacher's state can be beneficial. Heinzpeter Moecke said:
"We are sure that familiar voices, such as those of family members, present a calming effect. They give you a sense of security."
Medical staff are slowly reducing the amount of sedation administered to Schumacher in the aftermath of his accident to help the brain recover from serious injuries by reducing activity. The force of the impact was so hard that it cracked his ski helmet in two.
Last weekend, Grenoble hospital was forced into denying that Schumacher had died, after false death rumours spread online. A statement simply read: "The hospital denies that Michael Schumacher has died."
Wife Corinna, 44 insisted her husband was a "fighter" who will not give up.