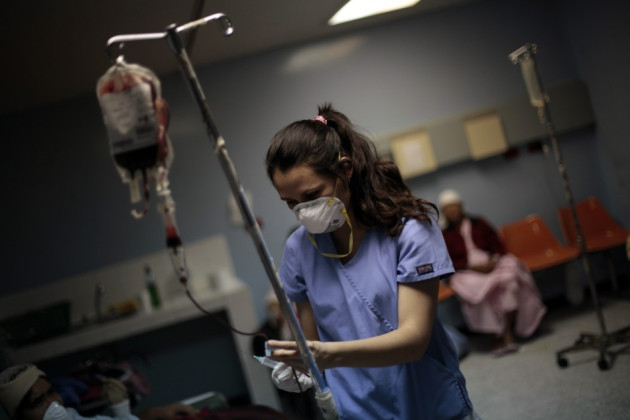 A teenager from Kent suffered seven heart attacks after taking the birth control pill Microgynon for a month.
Alyce Clark, from Cliffe, suffered a cardiac arrest after developing hundreds of blood clots caused by a reaction to the pill.
Microgynon 30, produced by pharmaceutical company Bayer, is one of the most popular forms of contraception in the UK. But women should not take it if they have blood clots, a heart attack or have any medical condition making blood clots more likely.
According to the Daily Mail, Clark suffered a heart attack at home and by the time she was admitted to hospital, had been resuscitated seven times.
The heart attacks were caused by blood clots in her legs that had moved to her heart and lungs.
She said: "I had the overwhelming urge to sit down. But instead I collapsed and fell head first down the stairs and into a wall. My face was covered in blood and I had bitten down hard on my bottom lip.
"I knew something was seriously wrong and I told my parents to call an ambulance. I was terrified. I had no idea what was going on and could tell my parents were just as scared as I was.
"I was bleeding through my nose and mouth and blood was escaping through my IV drips. My parents were invited in to say goodbye and no one so much as mentioned a chance of survival."
Clark spent two days in intensive care and following injections of an anti-blood clotting drug, she recovered.
Tests by University College London confirmed that Microgynon 30 caused the blood clots.
"Doctors told me if I'd been over 25 I would have been brain-damaged for life, but I was young and able to recover," she said.
"They wanted to make sure that the blood clots hadn't been caused by anything else before they blamed the Pill.
"But I knew it must have been that. I was a fighting-fit teenager who loved sport, didn't smoke, drink or do drugs. It's nice to finally have an explanation after all these years."
According to Bayer, Microgynon slightly increases the risk of blood clots in women, especially in the first year of taking the pill.
For women who are not pregnant and are not taking the medication, around five in 100,000 will experience a blood clot in a year. The risk is tripled for those on Microgynon but who are not pregnant, with 15 in every 100,000 getting blood clots.
A Bayer spokesman said every side effect caused by any of its products are thoroughly investigated and noted that the risk of blood clots is increased by Microgynon.
However, he added: "Based on the currently available information, the benefit-risk profile of Microgynon is favourable."