The features from Microsoft's next version of Office desktop suite for Windows 10, called Office 2016 have leaked.
During the January announcement, Microsoft confirmed the Office universal app on Windows 10 with touch-first experience across phone, tablet and PC incorporating new versions of Word, Excel, PowerPoint, OneNote and Outlook, is undergoing development.
While Microsoft is expected to deliver more details about Office 2016 later this month, Neowin has managed to dig out some information through an internal document explaining the update released for the testers.
According to the document, new functionalities have been added to the existing features, and a few changes among them include:
Forecasting functions
Time grouping for model based Pivot Tables
PowerView over an OLAP connection
Data model PivotTable Automatic Relationship Detection
BI in Excel-Bi features discoverability
Updated Backstage UI
Rename tables, columns and measures in Power Pivot and adjustments of the PivotTables
Data cards
Skype for Business
Details about the features
Forecasting functions, as described, are the time series forecasting sheet functions used to predict future values based on historical data.
The time grouping for Data Model PivotTables which allows grouping to be used in combination with the Power of xVelocity engine, along with a new feature to make Data Model Pivot tables, will replace the native version in the future.
Microsoft PowerView is included as a reporting option for an OLAP (Overview of Online Analytical Processing) cube connection.
The automatic relationship detection feature is now available through all SKUs for data modeling in PivotTables. Besides, there are new 'Turn on data analysis features' which help to tie Excel into Microsoft's Business Intelligence (BI) tools, available under the Excel option.
The Backstage UI has been updated with new changes, making it more intuitive around the storage locations and increasing the visibility of the Browse button.
Microsoft Excel users can now rename tables, columns and calculate fields within the Power Pivot and take advantage of PivotTables adjustments to the new names in the Data Model.
The Data cards display tabular data for a specific geolocation on mouse hover or selected visuals.
Finally, Skype for Business, previously known as Lync, will receive a few changes in the latest iteration of Microsoft Office.
Leaked screenshot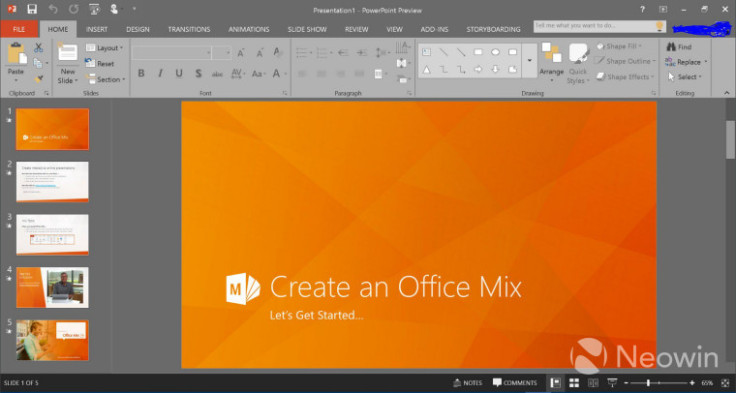 Meanwhile, a screenshot depicting Office 2016 has leaked with new icons which are preset in Windows 10 build. As seen in the screenshot, the new icons at the top and drop down menu now appear flatter without distinguish boxes for opening the menu.