Key Features:
10.1in widescreen display
Touch-optimised RT version of Windows
Kickstand
Touch and Type Covers
Quad-core, Tegra 3 chip, with 2GB RAM
Price: From £399
Introduction
For almost three years Microsoft has taken a back seat and watched, while Apple, Google and others have launched tablets that they all hoped would out-do each other - and for three years Microsoft kept quiet.
Of course, the Redmond company has tried before to give the tablet industry the kick it needed, but to no avail, releasing devices that were too big, heavy, expensive and underpowered to be widely adopted.
Unable to get the tablet market started, Microsoft went quiet while Apple introduced its iPad in January 2010, followed shortly after by an ever-growing choice of Android rivals across a wide range of sizes and prices.
It seems like Microsoft has done enough watching, and has decided to make its move on the tablet market, with the 10.6in Surface and Windows RT.
Microsoft Surface: Design and Windows RT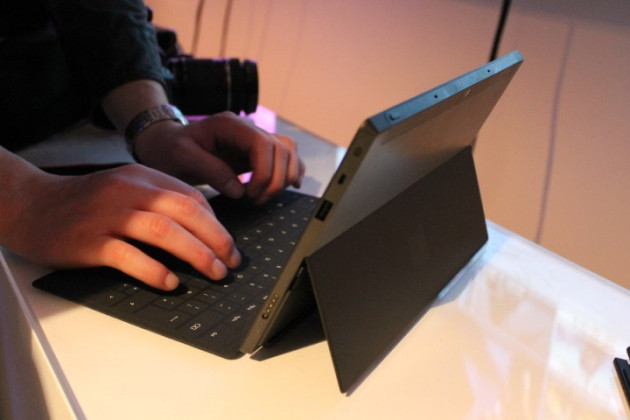 Sitting somewhere between an iPad-sized tablet and a MacBook Air-sized laptop, the Microsoft Surface is a device with an Nvidia Tegra 3 processor, magnesium construction, and a clever screen protector that doubles as a keyboard.
The Surface - especially when sat open with the Type Cover attached - looks every bit a Windows 8 laptop, complete with the tiled start screen, but tap the Desktop icon and you're taken to an operating system that isn't quite one thing or another.
Windows RT may look just like a complete version of Windows 8 on the outside, but dig a little deeper and you'll find the desktop offers no more than the Office 2013 suite, Internet Explorer, Notepad and Paint; in short, no other applications can be installed to run on the desktop.
Instead, all apps for Windows RT are downloaded from the Windows Store and use the tiled start screen - it's a strangely divided operating system, but we feel Microsoft is justified in keeping a limited desktop for now, so not to present users with a completely new interface with no similarities between itself and older systems like Windows 7.
Anyway, that's Windows RT - what we're more interested in is the Surface tablet itself.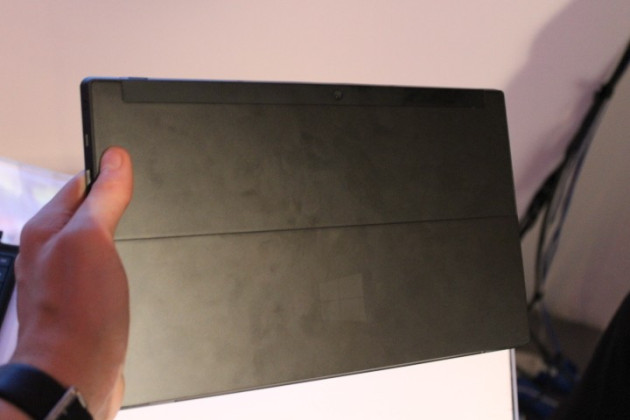 With a widescreen display almost an inch larger than the iPad, the Microsoft Surface feels like it should always be used in landscape, as holding the device in portrait (to read a book, for example) feels unnatural; the screen is just too tall to be used this way.
At 680g without the keyboard cover, the Surface is around 30g heavier than the newest iPad, but by keeping the same thickness of 9.4mm, the Surface feels about the same when you first pick it up.
Cold-to-the-touch Gorilla Glass and 'liquid metal' magnesium help the Surface to feel every bit the premium tablet its £399 starting price claims it to be - we're talking iPad levels of design and build quality here, and that can't be said about many Android tablets for sale at the moment.
That 10.1in display has a resolution of 1366 x 768 and is 16:9 widescreen, so films and TV look great, but websites and Word documents require plenty of scrolling - in landscape, anyway.
Powered by a quad-core Nvidia Tegra 3 CPU with 2GB of RAM, the Surface promises to be a powerful device capable of holding a light to even the new A6X-powered iPad - sadly, we only had a few minutes with the Surface, but in that time we found that flicking around the start screen and scrolling quickly through open applications were no problem at all.
For storage, there is the choice of 16GB or 32GB of storage and Microsoft has included a microSD card slot hidden under the Surface's kickstand.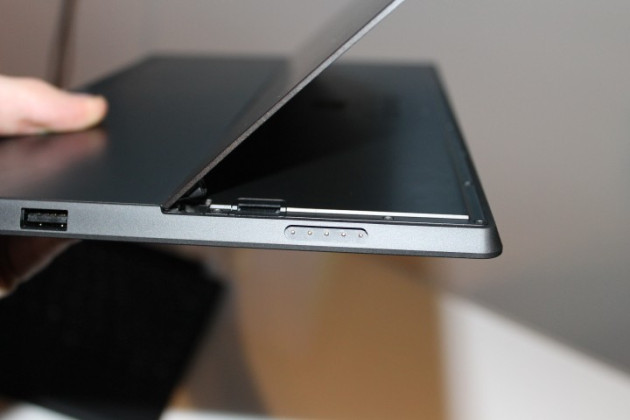 Microsoft Surface: Kickstand and Touch Cover
Flicking out to let you place the Surface down like a laptop, the kickstand has a heavily-weighted movement which reminded us of the sense of quality you get from closing a heavy car door - it really springs into place.
The evidence that Microsoft has invested real time and effort into the Surface's engineering is clear not just with the kickstand, but also how effortlessly the screen cover/keyboard clicks into place.
Expecting the process of connecting tablet with keyboard to be tricky, we were surprised at how easy and foolproof it is; just hold the Surface a couple of inches from the dock connection of the keyboard and the strong magnets do the rest, tugging the two parts into place with reassuring force.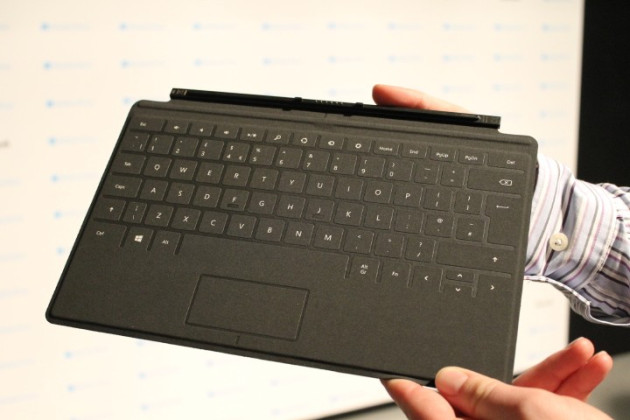 The Microsoft representative then proudly showed us how the magnets will hold the tablet in place, even when held (and swung) by the keyboard.
There are two keyboard docks/screen protectors sold alongside the Surface; the Touch Cover, which is made from tough fabric and on which the keys are little more than printed outlines; and the Type Cover, which has proper keys that are larger and depress when pressed.
Typing on the Touch Cover wasn't easy at first, and although we can see ourselves getting used to it after a couple of days of practice, typing on a piece of fabric with keys that don't provide any feedback is, at first, very strange.
The Type Cover felt much more familiar, as the keys depress and provide plenty of tactile feedback, which made using the Surface feel instantly more comfortable.
Just as the iPad and its Smart Cover, the Touch Cover (£99) and Type Cover (£109) both attach to either the front or back of the Surface (again, with magnets), and although holding a tablet with a physical keyboard on the back is very strange at first, we're sure it's something we would get used to.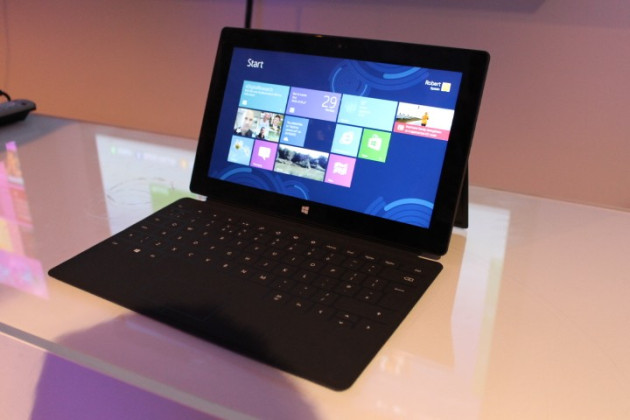 Microsoft Surface: Initial Thoughts
Our time with the Microsoft Surface was limited so it's hard to give a in-depth analysis of Microsoft's new tablet. What we will say for now though, is that the Surface is a genuine iPad competitor, with a good design that has clearly been thought out carefully, and good processing power with an attractive operating system.
Windows RT is a bit strange, like an intermediate step between Windows 7 and a future operating system that does away with the conventional desktop entirely, but we like the start screen, and including Office 2013 will be a huge benefit for users who need it for work.