Key Features:
10.6in display with 1920 x 1080 resolution
1.7GHz Intel Core i5 processor with 4GB RAM
128GB solid state storage plus microSD card slot
Price as reviewed: £799, plus £109 Type Cover / £99 Touch Cover
Introduction
Last year's Surface RT looked the part with its 'VaporMg' construction, integrated kickstand and ingenious Touch Cover, but was let down by its restrictive Windows RT operating system.
Despite featuring the tiled interface of Windows 8, its desktop mode was unable to run any applications apart from Office, Paint and Notepad.
With the Surface Pro, Microsoft hopes to fix the RT's shortfalls with a tablet/laptop hybrid that keeps the original's design, but includes a beefed-up Intel i5 processor, extra storage, and full Windows 8 with the ability to run all of your Windows applications, past and present.
At £719 for the 64GB model and £799 for my 128GB review unit, plus £100 for a Touch Cover, the Surface Pro is priced like a high-end laptop; but if it's capable of replacing both laptop and tablet, it could be worth considering.
Look & Feel
At first glance the Surface Pro looks identical to its cheaper brother, but look closer and you'll notice how much thicker the newer model is. At 13.5mm, it's noticeable fatter than the 9.3mm RT and at 904g it's 227g heavier.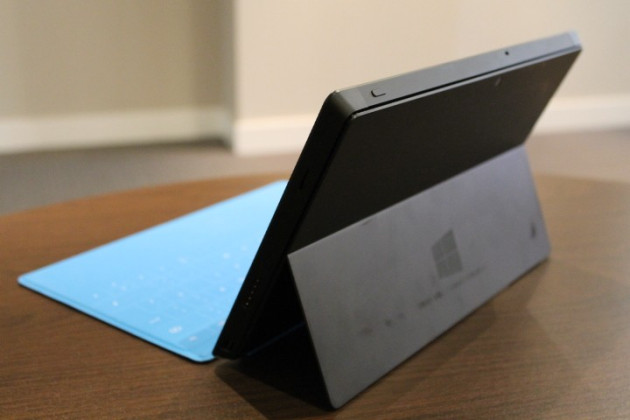 These facts count against the Surface Pro's bid to be a tablet you would consider buying instead of the iPad or an Android device. It really is too heavy to be held comfortably in one hand, and while it's possible to use as a tablet while watching TV from the comfort of your sofa, holding and using the Pro as a tablet in most situations isn't feasible.
In its favour, the Pro uses the same VaporMg material as the RT, which feels a lot like aluminium but a little softer to the touch. Despite its tablet intensions, Microsoft expects your Surface Pro to be sat on its kickstand for most of its life, so the buttons, cameras and ports are positioned accordingly. Above the screen there's a 720p HD 'LifeCam', below is a touch sensitive Windows icon.
The left edge houses a full-size USB 3.0 port, volume rocker and headphone jack, while on the right there's a second USB 3.0 port, a microSD card slot, mini DisplayPort (with HDMI and VGA adaptors included) and the magnetic power port doubling as a place to dock the included stylus.
On the top there's a microphone and power/screen lock button, on the bottom edge you'll find a connection for the Touch Cover, and finally there's a second 720p camera and the kickstand on the back.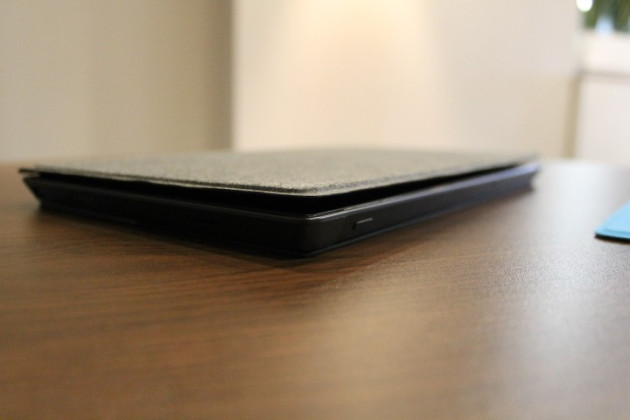 As with the RT, the Surface Pro is an attractive device which feels well made, with a sense of premium shared by the iPad and comfortably above all Android tablets.
Covers
A unique selling point of the Surface RT and Pro are the magnetic covers which double as keyboards. The blue one photographed with my review unit is the Touch Cover, is touch sensitive and sells for £99. Alternatively, the black Type Cover is thicker but offers a more traditional keyboard with tactile keys and costs £109.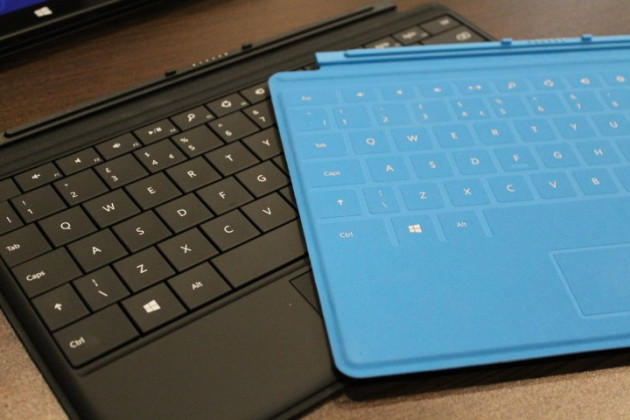 Both covers feature full Qwerty keyboards with plenty of function keys designed to work with Windows 8, and both include a trackpad, but during my week with the Surface I found the trackpad to be far too small and fairly unresponsive.
One-finger navigation was fine, but two-finger scrolling was very hit-and-miss, with the two trackpads often getting confused and moving the mouse, highlighting text, or doing nothing when I tried to scroll down a page. It was a frustrating experience that cast doubt over me wanting to use the Surface Pro as the laptop replacement it is trying to be.
Display
An improvement over the 1366x768 resolution of the Surface RT, the Pro model gets a full HD screen with a 1080p resolution of 1920x1080 while keeping the same 10.6in size.
It's an excellent screen with very wide viewing angles, no bleeding from the backlight, accurate colours and can be made bright enough to deal with reflections from our office lighting.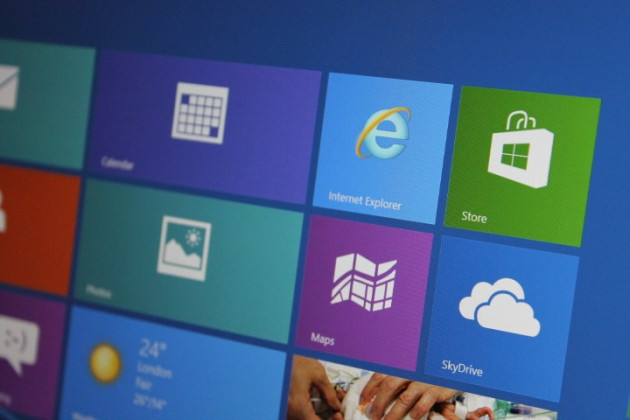 Being 1080p means HD video looks brilliant and the Windows 8 tiled interface has never looked better - sharp, crisp and with beautifully smooth text. But head over to the classic desktop environment and things start to look very small indeed. I'm writing this review with Google Docs in Chrome on the Surface and am finding text difficult to read. Yes, I could zoom in, but then icons and menus would still be just as small, and this makes some difficult to tap accurately.
It isn't a deal-breaker, but makes me wonder if such a high resolution is really suited to the screens of tablets, especially when they're running desktop applications intended for much larger displays.
Software and Performance
Running full Windows 8 means the Surface Pro benefits from both the new tiled Windows start screen and the traditional desktop environment, where any Windows programme can be installed and used, unlike with the Surface RT.
As for raw specs, the Surface Pro has a 1.7GHz Intel Core i5 processor with Intel HD Graphics 4000 and 4GB of RAM; make no mistake, this is a laptop in the body of a tablet more than it is a tablet which looks like a laptop, and as such, comparing the Surface to the iPad or an Android tablet isn't really possible.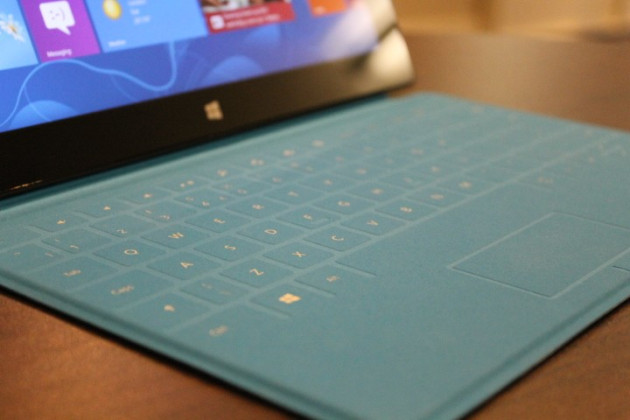 The performance on tap here means the Surface Pro can do just about anything you ask of it in exactly the way a similarly-specced Windows laptop would.
Battery life was slightly disappointing during my time with the Surface Pro. Again, I was treating the device like a tablet rather than a laptop, so when the device returned just four hours of continuous video playback streamed over Wi-Fi and with the screen at 60% brightness, I was disappointed.
The back of the unit is constantly somewhere between warm and hot, but at least the fans are silent and can only be heard if you lift the Surface to your ear.
Inside, there's Bluetooth 4.0, Wi-Fi 802.11 a/b/g/n, an accelerometer, gyroscope and compass, and either 64GB or 128GB of solid state storage.
Verdict
The Surface Pro performs well and did everything I asked of it. The screen is gorgeous, the hardware looks great and feels incredibly well made, and I even got used to typing on the covers, but I'm struggling to understand the Surface as a concept.
It isn't a tablet in the same way an iPad or Galaxy Tab is, but it's not a Windows 8 laptop either. Microsoft is aiming for somewhere in between with the Surface Pro, and while it may have hit the target, I'm questioning why the company had this grey area as a target in the first place.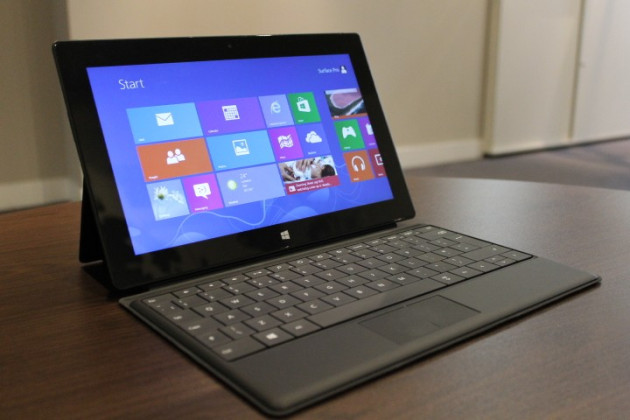 You shouldn't buy the Surface Pro without a keyboard, and to get real work done that'll have to be the £109 Type Cover, which takes the price of my 128GB review unit up to £908. For that I could buy a MacBook Air with the same storage and similar performance or a decent Windows 8 laptop and any tablet.
Add this to the Surface Pro's inability to sit on your lap or anything that isn't a desk, the lack of adjustment to the kickstand, and average battery life, and I think all but the most passionate of Microsoft fans would find a better solution elsewhere.
The Surface Pro is good at what it does, I'm just not sure if that's what anyone wants.
Scores:
The Good:
The Bad: