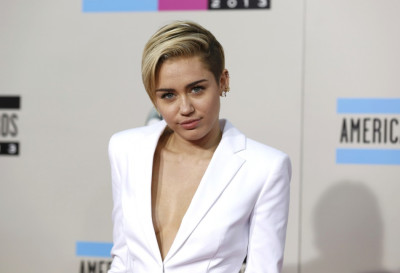 American pop star Miley Cyrus dissed Lady Gaga for not having her own style.
The 21-year-old former Disney star, who is on the cover of W Magazine, talked about the Telephone singer in her interview with Ronan Farrow.
Cyrus was flipping through a book of photos by American photographer Cindy Sherman, when she came across one of her famous picture, Untitled#276. In the photo, the artist poses as a "kind of grungy Cinderella".
"Lady Gaga completely ripped that off," she exclaimed.
However, Lady Gaga's fans were not happy with Cyrus' claims and took to Twitter to react.
"@danewakerell Miley Cyrus is so pathetic, First she has to get naked for attention but now she copies Lady Gaga for attention !!"
"@AngelJrPerez I was really starting to like Miley Cyrus, but after her dissin Lady Gaga after Gaga defended her that's just low."
This is not the first time that Cyrus has expressed her comments against Lady Gaga's fashion.
The Party in the USA singer had branded Lady Gaga a "scene stealer" for her entrance at the American Music Awards (AMAs) last year. The 27-year-old arrived on a mock horse.
"What a f***ing... What a big scene stealer! Next time I'm going to come in on a dragon." she told E! News.
Cyrus also made reference to Lady Gaga's entry at the Grammy awards in 2011, when she was carried down the red carpet encased in a huge egg.
"You can stop interviewing me if you want to go interview Gaga. I don't care," she said, adding, "She didn't come up in an embryo this time. That's so boring."