The popularity and flexibility of smartphone applications is so great that they are now appearing on the battlefield, helping the military do its job more efficiently.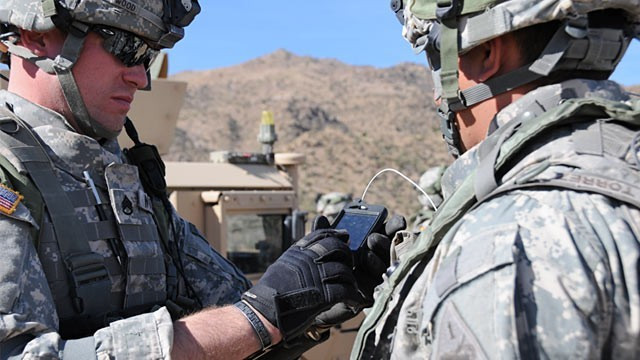 Last month, the US Department of Defense (DoD) announced the next stage of its mobile device strategy, which will see it encrypt up to eight million Android, iOS and Windows devices for use by its personnel.
The US is not alone, as the Ministry of Defence is also using smartphone apps in training and assessment, and Prime Minister David Cameron was recently reported to be testing a government iPad app.
Kevin Deal, vice-president of aerospace and defence at IFS North America, which creates software for enterprise customers, explains how smartphones have been adopted by the US government.
In a report sent to IBTimes UK, Deal explained how the market for military-grade security and encryption on smartphones is no longer unique to BlackBerry.
"Recently, the Pentagon ended its long-standing exclusive contract to Research in Motion, the developers of the BlackBerry, to allow the use of iOS, Windows and Android smartphones in defence operations," Deal said.
"The new arrangement is being coupled with a plan to encrypt up to eight million devices, from Android phones to iPads, and prepare them for secure use by DoD personnel."
The advantages of using smartphone apps in the field are huge according to Deal, and giving personnel the ability to access mission-critical information wherever they are represents a "more agile response to a changing tactical situation."
Deal added: "The Pentagon is already thinking about using network-ready smartphones as part of the mission in Afghanistan next year, while the DoD, the General Services Administration and NASA are all building online app stores where users can find and download mobile tools to assist in their work."
As for the UK, the Ministry of Defence here has developed smartphone apps to provide an alternative to computer-based personnel training, as well as developing its 'G-Cloud' strategy for cloud computing.
Similarly, the Australian Government this summer put out a request to industry leaders on the viability of providing secure smartphones and tablets for military use.
Apps for those on the front line
An example of how smartphone apps could be used by the military is explained by Deal:
"One example is IFS' own Flight Log App, which tracks critical information on the user's air and land assets. A synchronised and consolidated flight log, including flight details, disruptions, faults and crew associated with the flight, and pre- or post-flight inspections, can now be in the hands of those on the front lines.
"Simply having that information in one place enables maintenance to be effectively planned for an entire fleet of aircraft, transports or armoured vehicles, cutting time spent on administration tasks drastically."
Security is, of course, a major concern when the military is putting sensitive information on the mobile phones of staff, and in the early years of the smartphone, defence departments were understandably wary of allowing their use in war zones.
The use of social media like Twitter and Facebook was initially banned by the US Department of Defense over concerns of sensitive information being leaked, but now, as security has improved, it's a different story.
Deal said: "Since that time, improved training on the proper and safe use of smartphones - be it for personal or professional use - has created a breed of secure military mobile users, to the point where the DoD felt comfortable enough to drop the ban.
"And, alongside increasingly sophisticated security and encryption techniques being developed by ministries and defence departments around the world, smartphones are increasingly appearing to be secure modern communication defence assets."
Concluding, Deal said: "By ensuring that critical information can be accessed by the troops on the ground - at any time and in any place - the aerospace and defence industry can provide a real and meaningful step towards a more agile military."