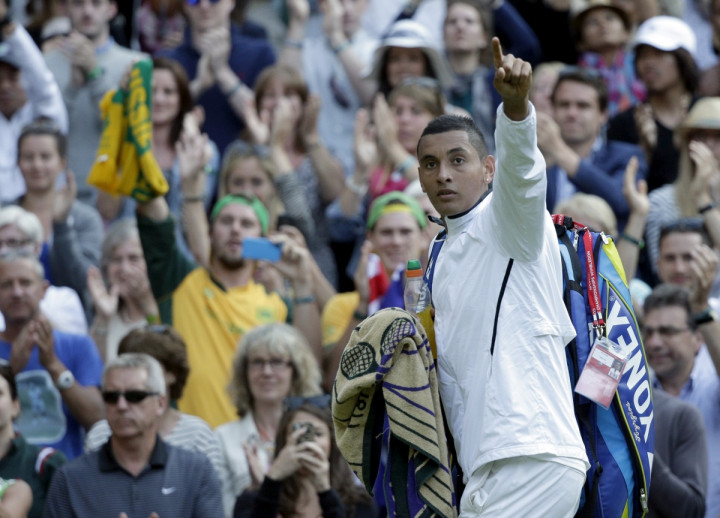 Milos Raonic takes on Nick Kyrgios in the quarter-finals of the 2014 Wimbledon Championships on the No.1 Court in the All England Club, London, on Wednesday.
Where to Watch Live
The play is set to begin at 5pm BST. Live coverage is on BBC One or BBC Two (HD). Live scores, regular updates, radio commentary and the live streaming link will be available on Wimbledon's official website.
Overview
Raonic comes into this match after recording his first win against Kei Nishikori to make his second grand slam quarter-final. He lost to Djokovic in his first grand slam quarter-final at Roland Garros earlier this year. Raonic is the second Canadian man in history to reach the quarter-finals at Wimbledon, the first being Robert Powell (1908, 1910, 1912).
Meanwhile, Australian teenager Kyrgios comes into the match with his confidence sky-high after beating World no.1 Rafael Nadal in his fourth round match. The rising star of the ATP tour showed no signs of nerves and took the game to Nadal completing the win in just over three hours. The Aussie also became the first player outside the top 100 to defeat the World no.1 since Andrei Olhovsky defeated Jim Courier at Roland Garros in 1996.
Raonic, who not too long ago was being looked upon as the new young star in the ATP circuit now comes into this match as the more experienced player despite only being 23 years of age. At 19, Kyrgios is the new kid on the block. Both the players are known for their power game with big serves. For either of them a win will take them into new territory, as both have never reached the semi-finals at a grand slam.
Click Here to Read Roger Federer vs. Stanislas Wawrinka Preview
Head-to-Head
Raonic has a 1-0 lead over Kyrgios. The pair has met in one grand slam event, which was in the 2014 French Open at Roland Garros with Raonic winning that battle in three sets.
What They Say
Milos Raonic: "Serving well [will be key]; I've been able to do that so far. It's what's going to put the pressure on my opponent. It's what's going to give me a bit of freedom on the return games. After that, the most important thing is going to be the attitude, the mental approach. I want to do much better than I did in Paris. I feel like I'm ready to do so."
Nick Kyrgios: "You've got to believe you can win the match from the start and I did. I'm playing unbelievable tennis on the grass. I just go through my routine and I just play aggressive. If they play too good on that point, then it's too good. But I'm going to go after it and give myself the best chance to win the point."