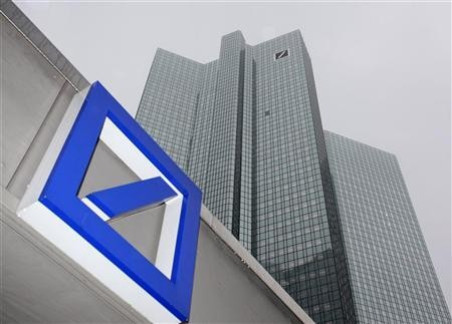 Lawyers have presented an email from a Deutsche Bank employee referring to a customer being "screwed" as part of Unitech's evidence that it was knowingly mis-sold complex derivatives by the German finance giant.
The email, sent by Deutsche Bank employee Sanjay Agarwal, said "no one likes to know he got screwed," in relation to the Unitech deal on 12 September 2007.
Another email, sent five days later by Deutsche Bank employee Ashish Kapoor, referred to a call with a Deutsche Bank colleague who referred to an interest rate swap agreement (IRSA) as a "stupid [customer unfriendly] swap etc etc."
The messages were submitted as part of a three-day hearing in the London Court of Appeal, which propounds the view that rate-rigging invalidates complex interest rate swap agreements (IRSA) to customers, because the swaps are attached to the Libor rate.
IRSAs are contracts between a bank and its customer where typically one side pays a floating, or variable, rate of interest and receives a fixed rate of interest payments in exchange.
Such contracts are used to hedge against extreme movements in market interest rates over a given period. Companies that saw the value of these products move against them as rates fell during the recession now owe banks crippling sums of money in interest payments each year.
The UK court is expected to deliver a verdict by the end of the year, which will be the first of its kind and therefore could determine whether thousands of other businesses across Britain can sue banks under the same allegation.
The Unitech Case
Unitech tried suing Deutsche Bank over the last year for mis-selling derivatives linked to Libor and sought the repayment of a $150m loan made in 2007 by a consortium of lenders.
It also sought the repayment of $11m owed for a related IRSA.
Unitech said it wouldn't have agreed to the loan or swap had it known Deutsche Bank was manipulating Libor, making both agreements invalid.
However in February 2013, Judge Jeremy Cooke rejected the Indian property firm's bid saying that Germany's largest bank didn't imply Libor was honest by linking a $150m loan and interest rate swap to the benchmark rate.
Judge Cooke added that requiring banks to make implicit promises about the entire Libor-setting process in contracts is "unrealistic."
Deutsche Bank told IBTimes UK that "this is a long-standing case of a loan that was made and not paid back. The High Court has already ruled that we, along with the other lenders, are entitled to have the loan repaid. The defendant's attempts to introduce broad and unsupported allegations about Libor, which have already been rejected once by the High Court, are a bid to delay payment and divert attention from its unpaid debts."
In relation to the submitted email evidence, Deutsche Bank added that "the communications cited by the defendant have been taken out of context, are irrelevant to the specific appeals court hearing, and are another attempt to divert attention from its unpaid debt and the recent high court ruling that we, along with the other lenders, are entitled to have an outstanding loan repaid