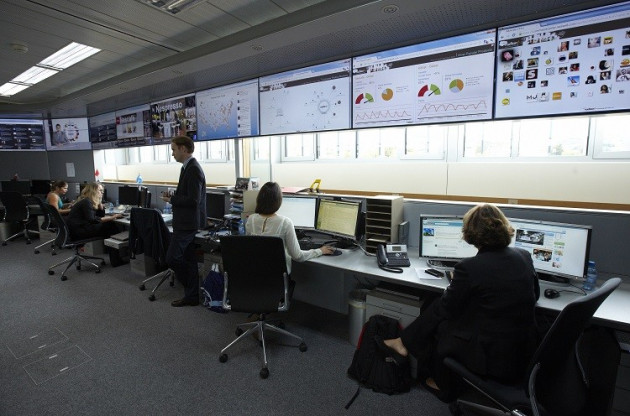 Firms that master digital by successfully integrating technology with their business activities have the best revenue generation, profitability and market valuations when compared with other companies, according to research by the Massachusetts Institute of Technology and Capgemini.
MIT's Digital Business Center divided a sample of 184 publicly-traded companies into four categories which defined their approach to digital balanced against the capability of the leadership. The four sections are Fashionistas, Beginners, Conservatives, and Digital Masters.
The chart explains the criteria for each category.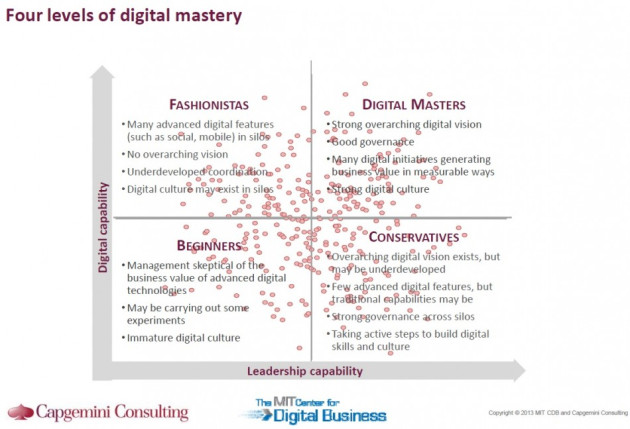 They then analysed the financial performance of businesses in each category and discovered that the best correlated with the most digitally advanced.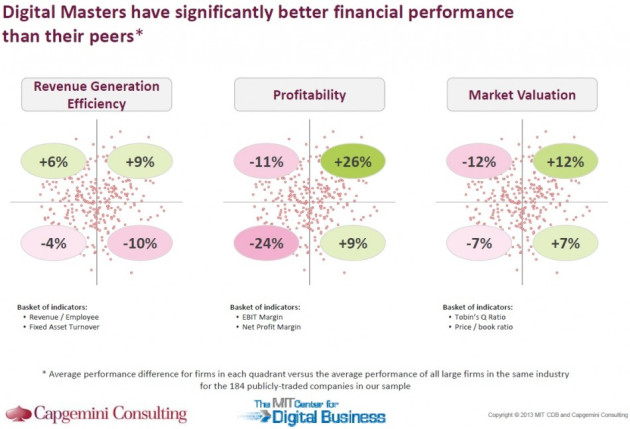 Some firms may be tempted to hold off and not invest the time and money in digital transformation, merging technological and commercial thinking, instead choosing to let their competitors test the water and following the lead of those who find success.
"While you could think about doing it that way, it would actually be a really bad idea because every industry we studied already has digital masters in it," said George Westerman, a research scientist at MIT Sloan Center for Information Systems Research who is working on the study.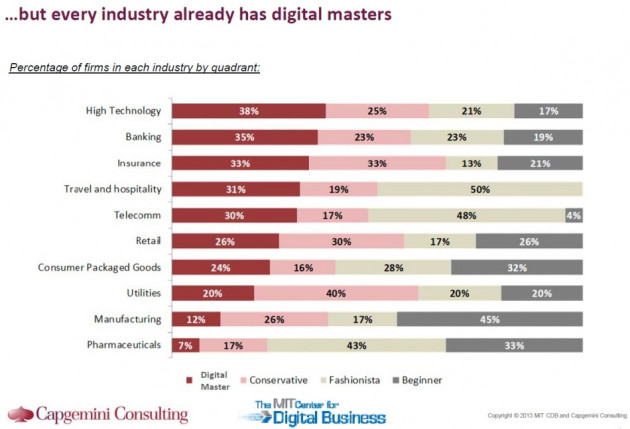 The message is this: go digital as soon as possible.
Westerman gave several examples of how firms considered to be digital masters were harnessing technology to boost their businesses.
Among them was Nike who, he said, were doing many innovative things. One of those is using technology in its running footwear which connects to a jogger's iPod.
Nike knows what the joggers are listening to while out on a run - and then puts the same music on its advertising.
Another example was Caesers, the casino firm. Caesers heavily analyses data collected from its customers and uses the harvested intelligence to adjust how they treat the people coming through their doors.
"For years they have had this frequent flyer programme called total rewards. They would use it to send you coupons. They would also use it when you check in," said Westerman.
"They would know whether I typically lose a lot of money at gambling, or whether I don't - and they would treat me differently. If I'm what they call a whale, they know they're going to get a lot of money out of me so I get special treatment.
"But they went on now. They said that's great, if you're at a desk we can treat you differently. But what about when you're anywhere else?
"So they armed their people with mobile devices so they can know about what you are anywhere. When you get free drinks. If you're losing they can send an email to somebody and say 'hey, help out George, he's losing right now. Maybe you want to get him a free dinner, it'll help him calm down'."
Westerman said Caser's has gone further still and people can now, for example, check in to the hotel by texting in advance. Customers can then skip the queue, go straight to the bell boy and collect the keys for their room.
The MIT/Capgemini research is part of a three year programme studying digital transformation among business. The full results and analysis are expected to be published in the latter half of 2014.