MLK Day is an American Federal holiday that commemorates the birth of humanitarian activist Martin Luther King Jr, who acted as the leader of the African-American Civil Rights movement from the mid-1950s until his death by assassination in 1968. His involvement in the campaign was fundamental to its success in ending the legal segregation of African-Americans in the South and other parts of the US and he was awarded the Nobel Peace Prize in 1964.
Before that, however, King became a figure in the public eye as head of the Southern Christian Leadership Conference, which promoted non-violent strategies to address, and hopefully resolve, conflicts. One instance where he showcased these viewpoints was the massive March on Washington (1963), to achieve civil rights.
An influential man, and well-known for his public speeches and wise words, King coined many inspirational phrases over his short but inspiring time in the limelight. While he was born on 15 January 1929, MLK Day is marked on the third Monday of the year, so to celebrate, IBTimes UK has compiled some of his best quotes to remember both his life and his career...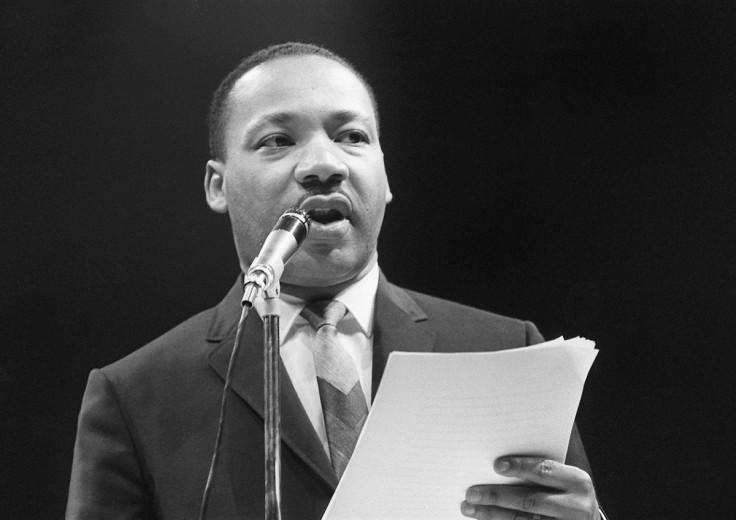 "Darkness cannot drive out darkness; only light can do that. Hate cannot drive out hate; only love can do that." – Loving Your Enemies from Strength to Love, 1963.
"Nothing in the world is more dangerous than sincere ignorance and conscientious stupidity." – Love In Action from Strength to Love, 1963.
"The best way to solve any problem is to remove the cause." – During an address at the Golden Anniversary Conference of the National Urban League in New York City, 1960.
"There comes a time when one must take a position neither safe, nor politic, nor popular but he must take it because his conscious tells him it is right." – Origin unknown
"I have a dream that one day right there in Alabama little black boys and little black girls will be able to join hands with little white boys and white girls as sisters and brothers."
"We cannot walk alone. And as we walk, we must make the pledge that we shall march ahead. We cannot turn back."– I Have A Dream speech at the Lincoln Memorial, Washington DC, 1963.
"We may all have come on different ships, but we're in the same boat now." – Origin unknown
"Life's most persistent and urgent question is: 'What are you doing for others?'" – While addressing an audience in Montgomery, Alabama in 1957.
"I say to you that our goal is freedom, and I believe we are going to get there because however much she strays away from it, the goal of America is freedom."
"Ultimately a genuine leader is not a searcher for consensus, but a moulder of consensus." – Remaining Awake Through a Great Revolution, an address at the Episcopal National Cathedral, Washington DC, 1968.
"I have decided to stick with love. Hate is too great a burden to bear." – Origin unknown
"The time is always right to do what's right." – During a speech delivered in Finney Chapel at Oberlin College, 1964.
For more entertainment news follow A-List on Twitter @Alistinsider