If you were offended by the controversial joke Ricky Gervais made about Caitlyn Jenner at the 2016 Golden Globes, he wants you to know that he doesn't care. The British funny man has defended the gaffe that left Hollywood's A-listers stunned during his opening monologue.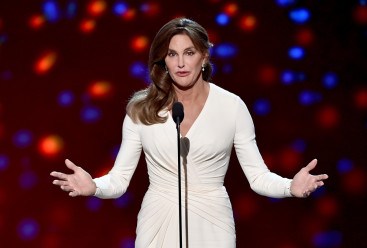 On Sunday night (10 January), The Office star raised eyebrows when he said: "I'm gonna be nice tonight — I've changed. Not as much as Bruce Jenner, obviously. Now Caitlyn Jenner, of course. What a year she's had. She became a role model for trans people everywhere, showing great bravery in breaking down barriers and destroying stereotypes. She didn't do a lot for women drivers."
However the joke, which made reference to the former Olympians' transition, did not sit well with viewers tuning in at home, with many taking to Twitter to express their outrage. While some claimed that it was in poor taste, others went as far as to accuse the funny man of being transphobic.
One commentator said: "Ricky Gervais toeing the line towards transphobia with a strange mention of Caitlyn Jenner."
In the wake of the backlash, Gervais jumped on Twitter to remind critics that being controversial was an occupational hazard. In a series of messages, the 54-year-old star stated that he had no regrets after managing to offend basically everyone in the room.
"You have every right to be offended. Just don't cry when no one cares," he told his 10.5m followers. "I made a joke about Caitlyn Jenner killing someone in her car. I'm #TransportPhobic. (sic)"
Making reference to another joke he made later in the ceremony about disgraced entertainer Bill Cosby, Gervais added: "Suggesting a joke about Caitlin Jenner is automatically transphobic is like suggesting a joke about Bill Cosby is automatically racist."