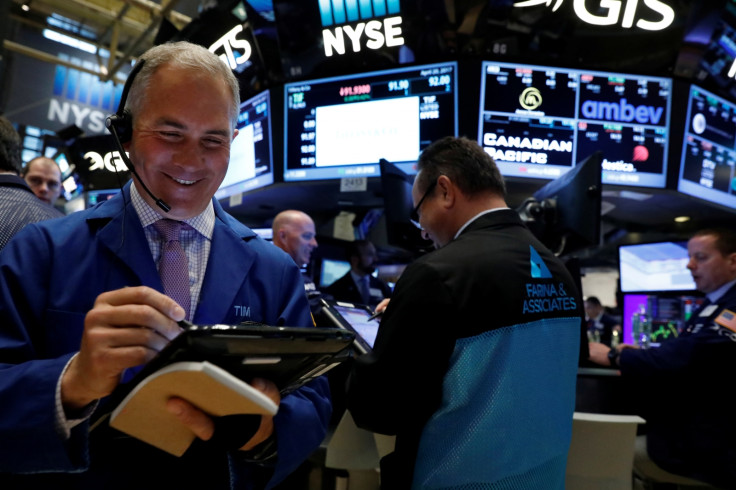 US stocks made significant gains on Thursday (20 April), with the Nasdaq finishing with a record close. Investors received stronger-than-expected corporate reports and encouraging comments from Treasury Secretary Steven Mnuchin about the Trump administration's tax overhaul plans.
Mnuchin said the administration was close to "major tax reform" and would unveil a plan "very soon," CNBC reported. The Treasury secretary earlier this week distanced himself from an earlier deadline of passing tax reform by August. Mnuchin also said President Trump's tax reform plans are not linked to the outcome of the healthcare bill.
Edward Campbell, managing director for QMA, a multi-asset manager owned by Prudential Financial, told CNBC: "If there is some sort of breakthrough, it will be positive" for stocks. Campbell warned that investors may have to curb their expectations regarding tax overhaul.
Mnuchin's remarks bolstered stocks, leading to gains across the board.
The Dow Jones Industrial Average rose 174.22 points, or 0.9%, to settle at 20,578.71. According to MarketWatch, American Express Co was the best performer on the blue-chips gauge, gaining 5.9% after earnings were released.
The S&P 500 gained 17.67 points, or 0.8%, to end at 2,355.84. Financials, industrials and materials led advancers, jumping more than 1%. The SPDR S&P Regional Banking ETF (KRE) and the Bank ETF (KBE) advanced more than 1.5%.
Sales and earnings expectations surpassed
According to FactSet data, 79% of the 82 S&P 500 components that reported quarterly results topped earnings-per-share estimates. CNBC noted that 70% have surpassed sales expectations.
Meanwhile, the Nasdaq Composite advanced 53.74 points, or 0.9%, to hit a record close of 5,916.78.
"There is a lot of good news when it comes to earnings and economic data and not only in the US but overseas as well," Karyn Cavanaugh, senior market strategist at Voya Financial, told MarketWatch. Cavanaugh added that Mnuchin's remarks "are the icing on the cake, and are giving investors confidence that the long term economic backdrop will be getting better."
In economic news, initial jobless claims rose by 10,000 to 244,000 in mid-April. However, the number of unemployed people collecting unemployment checks dropped to a 17-year low last week, MarkeWatch noted. Meanwhile, the Philadelphia Fed's manufacturing index fell in April.
US crude oil prices dropped $0.17 to settle at $50.27 per barrel. According to CNBC, WTI dropped nearly 4% on Wednesday (19 April) after the Energy Information Administration released bearish supply data.
Gold prices and the US Dollar Index remained flat.