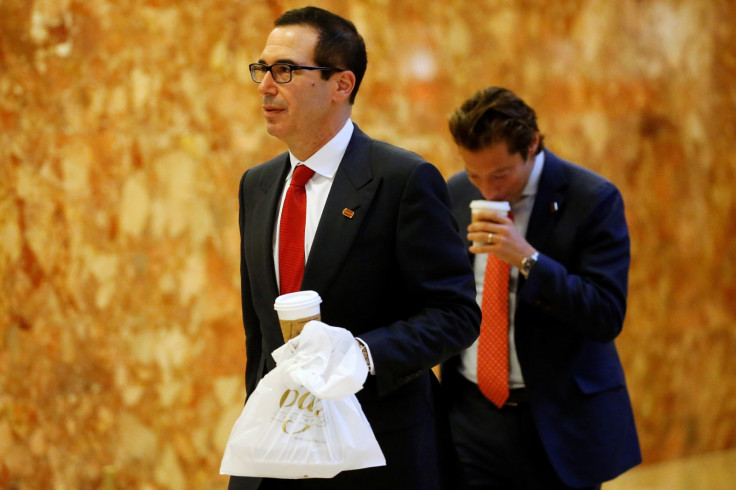 Donald Trump's nominee for Treasury secretary, Steven Mnuchin, said the incoming administration's "number-one priority is tax reform".
The appointment of the former Goldman Sachs banker and Hollywood movie producer, flies in the face of Trump's campaign message that "Wall Street has caused a tremendous amount of problems for us".
Trump had promised to go to Washington and "drain the swamp" of special interests and business elites.
However, Mnuchin told CNBC that the US economy can grow at a sustained rate of 3% to 4%, driven by tax cuts that would free up wealth to create jobs.
Mnuchin, 53, reiterated that a Trump administration would cut the Federal corporate tax rate to 15% from 35%, bringing back billions of dollars that US multinationals keep in offshore havens.
Mnuchin said: "I think we absolutely can have sustained grow at that level. And to get there our number-one priority is tax reform. We are going to cut corporate taxes, which will bring huge amounts of jobs back to the United States."
Among his duties Mnuchin will also be tasked with raising government borrowing to fund the incoming administration's $1tn (£800bn, €945bn) infrastructure plan, slashing post-crisis financial regulations and renegotiating international trade deals Trump has slated for hampering US growth.
Also, long-time Trump ally billionaire investor Wilbur Ross has been nominated as commerce secretary, in a position that serves as the liaison between companies and the White House. Mnuchin and Ross are expected to work closely together.
The Goldman club
Mnuchin, who has no government experience, will replace the current Treasury secretary, Jack Lew, who spent most of his career in government or academia.
He has a lower profile on Wall Street than the previous two Treasury secretaries drawn from Goldman Sachs, Robert Rubin and Hank Paulson.
Rubin, who served under Bill Clinton from 1995 to 1999, was a former co-chairman of Goldman and Paulson was chief executive between 1998 and 2006 before a three-year stint in government under George W Bush that spanned the financial crisis.
Mnuchin, who is estimated to be worth $40m (£32m), became Trump's campaign finance director during his run for the White House.
He left Goldman 15 years ago to produce movies in Hollywood. The financier set up Dune Entertainment and has helped fund a raft of big budget films such as Avatar, one of the highest grossing films in history. The firm was named after the beach dunes near his mansion in the Hamptons.
Other films he financed include: Night at the Museum, Batman v Superman: Dawn of Justice, Mad Max: Fury Road, and American Sniper.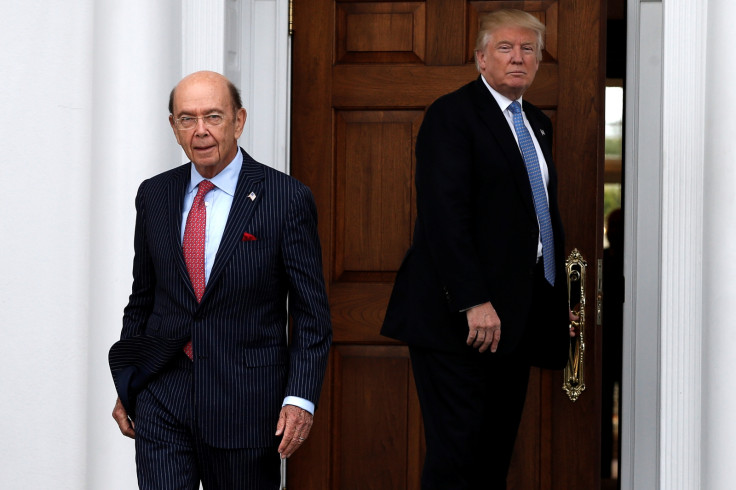 On Wall Street Mnuchin is best known for buying up the remains of IndyMac, a California-based mortgage lender that collapsed amid the financial crisis in 2009 for $1.6bn.
Democrats said he and his backers "preyed" on desperate homeowners who were anxious about keeping a roof over their heads. During his time at the business he picked up the nickname the "foreclosure king".
The firm, renamed OneWest, was sold to financial services business CIT Group for $3.4bn last year.
Draining the swamp
Veteran Massachusetts democratic senator Elizabeth Warren said: "His selection as Treasury secretary should send shivers down the spine of every American who got hit hard by the financial crisis, and is the latest sign that Donald Trump has no intention of draining the swamp and every intention of running Washington to benefit himself and his rich buddies."
The financier has flirted with both parties, having donated to the White House bids of both Hillary Clinton and President Barack Obama.
Mnuchin, from a New York Jewish family, became a Goldman partner at the age of 31, rising to chief information officer after running the firm's trading in mortgages, US government, money market and municipal bonds. He spent 17 years at the bank, where his father and brother had also worked. He left in 2002.
Career changes
His father, Robert, also changed careers after working at Goldman and opened a successful New York gallery, called the Mnuchin Gallery, which sells the works of such artists as Francis Bacon, Damien Hirst, Andy Warhol and Yves Klein.
Before that Steven Mnuchin was educated at the $50,000-a-year Riverdale Country and Yale University.
Mnuchin, has three children from a previous marriage, is engaged to the Scottish actress Louise Linton, who has appeared in CSI: NY and Cold Case.
Earlier this year Linton wrote a controversial memoir about an adventurous gap year as an aid worker in Zambia. However, In Congo's Shadow: One Girl's Perilous Journey to the Heart of Africa, was widely castigated as fantasy, and resulted in her withdrawing the book.