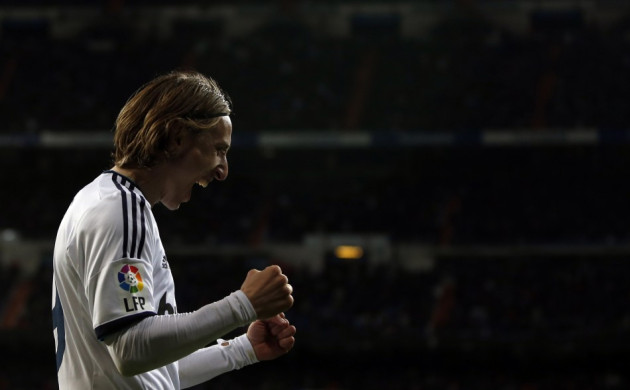 Manchester United have contacted Real Madrid in order to discover whether the Spanish club would be prepared to sell Luka Modric after an underwhelming first season from the midfielder.
It has been thus far been a summer of frustration for new United boss David Moyes who has failed to complete a single deal since taking charge at the start of the month.
The Premier League champions had been strongly linked with Thiago Alcanatara but the creative midfielder instead chose a move to Bayern Munich, while long term target Kevin Strootman is on the verge of joining Roma.
A bid for Everton full-back Leighton Baines has also been rejected, while Barcelona made it clear that they have no intention of selling former Arsenal midfielder Cesc Fabregas who was the subject of a £25m offer from United earlier this week.
Fabregas seems unlikely to leave the Spanish champions, with Barcelona boss Tito VIlanova making it clear that the midfielder would remain at the club next season.
"I know he has received offers from other teams but Cesc has told me it is his dream to stay," said Vilanova. "He doesn't want to go to other teams for money or playing time. He knows there is competition for places but he wants to stay."
Manchester United executive vice-chairman Ed Woodward has returned from the club's pre-season tour in order to try and complete a major transfer but it seems unlikely that it will be Fabregas, and Sky Italia believe that it could well be Modric that becomes the prime target.
The former Tottenham Hotspur midfielder struggled to make a significant impact in his first season in Spain as he scored just three goals in his 25 league starts.
Modric did improve as the season progressed but with Carlo Ancelotti now in control of the club there is a feeling that Madrid may well be prepared to listen to offers as they have already further strengthened their midfield options.
The Spanish giants have completed big money moves for Isco and Asier Illarramendi, putting Modric's future further in doubt as he was already competing with the likes of Xabi Alonso, Sami Khedira, Mesut Ozil and Kaka for a role in central midfield.
Manchester United were heavily linked with Modric when he was still at Tottenham but it was believed that the north London club were unprepared to sell the Croatian to another Premier League club.
Should United make an offer in the region of £25m - the same they offered for Fabregas - then Madrid may well decide to cash in as they already have a number of replacements for Modric.
While Tottenham supporters would be hugely disappointed to see Modric at a major rival after just one season, the pursuit of the Madrid midfielder may well be positive news for Arsenal fans who will retain hope that they can resign Fabregas.
Arsenal boss Arsene Wenger revealed to reporters that he believes Fabregas had committed to Barcelona for another season but hinted that a deal could happen in a years' time,.
"Fabregas has decided to stay one more year at Barcelona," explained Wenger. "Unless he has changed his mind, I don't know, but that's what I've been told."