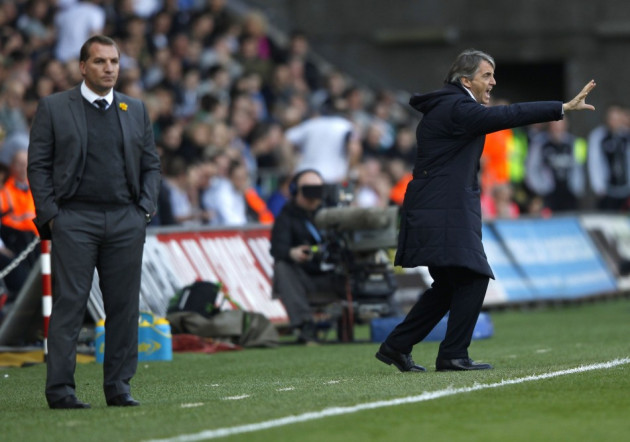 Liverpool are poised to complete the appointment of Brendan Rodgers as their new manager after Swansea City granted the 39-year-old Northern Irishman permission to discuss terms with the Merseyside club.
Rodgers is expected to be given a three-year contract at Anfield and will be unveiled as Kenny Dalglish's replacement on Friday.
The Swansea coach initially ruled himself out of the running but appears to have had a change of heart after Liverpool's owners, Fenway Sports Group, made it known he was the top-candidate for the role.
Former Liverpool midfielder Jan Molby has warned Rodgers working at Anfield will be an "eye-opener" given the overhaul in the club's management structure over the summer.
"In Europe, clubs develop coaches and don't have managers like here in England," Molby told the Liverpool Daily Post.
"They don't have people in charge of everything at the football club. People know their role and players are brought in by a sporting or technical director.
"When the players do well, the director gets the credit and when they don't, they take the criticism. Whoever comes in as the new Liverpool manager, this system is going to be an eye opener."
Former Bayern Munich and Barcelona coach Louis Van Gaal had been linked with the sporting director role at Anfield but his proposed appointment appears to have faded after Rodgers informed FSG he would require complete control of football matters.
Swansea chairman Huw Jenkins told the club's Web site on Wednesday: "I was contacted by Liverpool last night and they expressed their wish to speak to Brendan regarding their vacancy.
"I had a discussion with Brendan to talk about their interest and his views on whether he wanted to speak to Liverpool.
"He expressed his wish with me to do that and he has spoken to Liverpool today.
"Following on from discussions with Liverpool's owners, Brendan has informed us that he would like to take up their offer to manager Liverpool.
"At the moment we are currently in talks with the owners to agree compensation. We are trying to finalise that within the next 48 hours."