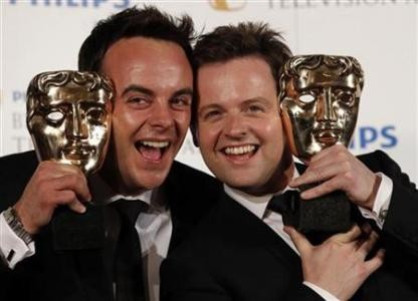 Morrisons is pinning its hopes on the UK comedy duo Ant and Dec to revive dismal sales by asking them to front a campaign to showcase the company - the UK's fourth largest supermarket.
FremantleMedia Enterprises, Simon Cowell's Syco and James Grant Management will launch an advertising and brand campaign on ITV during sponsored flagship Saturday night shows such as Britain's Got Talent and Ant & Dec's Saturday Night Takeaway.
Although Ant and Dec are not a globally recognised brand they are huge in the UK and represent the target audience - the middle and working class.
However, after years of celebrity endorsements for Morrisons, including Take That's song Shine, will such a large campaign make a difference?
According to an online poll by Adweek/Harris Interactive in November, 77 percent of respondents claimed that when a sports star, movie star or other celebrity endorsed a product, they were no more nor less likely to buy it.
Some 14 percent of those polled said that they were less likely to buy the product.
While Morrisons will update on trading for the six weeks to 30 December on Monday, leading market research group Ipsos Mori already noted that the festive season is a sign of the change in consumer attitudes towards Christmas ads.
"The trend seems to be away from glitz and glamour, and towards reassuring and heartwarming vignettes of family life. The ne plus ultra of this trend in retail ads is of course John Lewis. Yes, the production values are ultra-high and the launch of its Christmas campaign has become something of a media event in its own right," said Keith Glasspoole, deputy managing director at Ipsos Mori's brand and communications arm, Ipsos ASI.
The John Lewis ad, which features a Snowman's journey, cost £6m but helped garner a 14.8 percent rise in total sales, to £684.8m, in the five weeks to 29 December 29 against a year before.
Over the years, a number of scholars have conducted studies that show that while it is difficult to gauge exact improvement in sales following celebrity endorsements, there are some positive and negative effects for a company.
In a report, The Economic Value of Celebrity Endorsements , in the Journal of Advertising Research in 2011, experts examined how famous athletes had a significantly positive effect on companies.
"Although effects on stock returns are relatively well documented, little is known about any impact on sales - arguably a metric of more direct importance to advertising practitioners. In this study of athlete endorsements, we find there is a positive pay-off to a firm's decision to sign an endorser, and that endorsements are associated with increasing sales in an absolute sense and relative to competing brands," said Anita Elberse, associate professor at Harvard Business School and Jeroen Verleun, analyst at Barclays Capital.
"Sales and stock returns jump noticeably with each major achievement by the athlete. However, whereas stock-return effects are relatively constant, sales effects exhibit decreasing returns over time," they add.