A Chinese millionaire spent £7,600 on a dram of vintage Scotch whisky, only to then find out it was a fake.
Zhang Wei, one of China's highest-earning online writers, paid just under 10,000 Swiss Francs for a drop of Scotch that was poured from an unopened bottle labelled as an 1878 Macallan single malt at the Devil's Place whisky bar in the Waldhaus Am See hotel in St Moritz, Switzerland.
The sum is believed to be the highest ever paid for a single shot of Scotch but, unfortunately for the 36-years-old, it was spent on something that was not what is was purported to be.
Once the story first hit the headlines in July, whisky industry experts soon spotted discrepancies between the label that appeared in articles across various newspapers and the cork.
Eager to get to the bottom of the issue, the Waldhaus sent a sample of the Scotch to Dunfermline-based specialists Rare Whisky 101 (RW101) for analysis.
The company in turn asked researchers from the University of Oxford to carry out carbon dating tests on the sample, which showed there was a 95% probability the spirit had been distilled between 1970 and 1972.
To make matters worse, further tests carried out by alcohol analysts Tatlock and Thomson showed the spirit was in all probability a blended Scotch, which ruled it out as a single malt.
"The Waldhaus team have done exactly the right thing by trying to authenticate this whisky," RW101 co-founder David Robertson was quoted as saying by the Scotsman.
"Over the past year, we have been invited by numerous bottle owners and auction houses to assess suspicious bottles. Indeed, we've noticed an increasing number of old, rare archive or antique bottles coming to market at auction, and it's difficult to know how prevalent this problem is.
"We would implore that others in the market do what they can to identify any rogue bottles."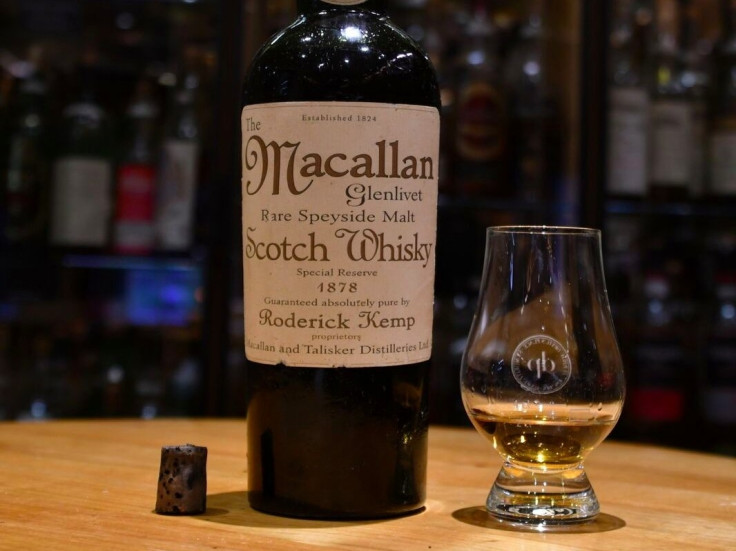 The Swiss hotel stocks 2,500 different whiskies and manager Sandro Bernasconi admitted neither he nor his staff had any idea the whisky was fake.
"My father bought the bottle of Macallan 25 years ago, when he was manager of this hotel, and it had not been opened," he was quoted as saying by BBC Scotland.
"When Mr Zhang asked if he could try some, we told him it wasn't for sale. When he said he really wanted to try it, I called my father who told me we could wait another 20 years for a customer like that so we should sell it.
"Mr Zhang and I then opened the bottle together and drank some of it."
However, Zhang was not left out of pocket as Bernasconi personally flew to China to refund him, after the hotel found out the whisky in the bottle was in fact a fake.
"When I showed him the results, he was not angry - he thanked me very much for the hotel's honesty and said his experience in Switzerland had been good.
"When it comes to selling our customers some of the world's rarest and oldest whiskies, we felt it was our duty to ensure that our stock is 100% authentic and the real deal.
"That's why we called in RW101.
"The result has been a big shock to the system, and we are delighted to have repaid our customer in full as a gesture of goodwill."