Real Madrid boss Jose Mourinho has once again hinted at making a return to the Premier League, admitting that he is eager to return as long as English clubs show interest in hiring him.
The 49-year-old Portuguese boss, who was the main reason behind Real Madrid's success in the La Liga last season, is rumoured to take up Sir Alex Ferguson's place at Manchester United or Roberto Mancini's at Manchester City despite signing a fresh deal at the Bernabéu, binding him until 2016.
Mourinho had been a big success at the Premier League during his three years at Chelsea, helping the Blues win two Premier Leagues, two League Cups, the FA Cup, and the Community Shield.
However, Mourinho is unlikely to make a return to Stamford Bridge after he was ruthlessly sacked from the club by owner Roman Abramovich in 2007 following a disagreement. Also, the Russian billionaire is reportedly more interested in getting former Barcelona boss Pep Guardiola.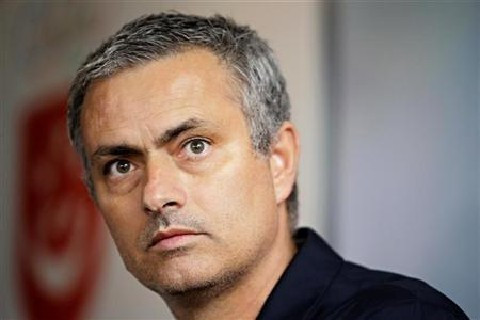 Still, Mourinho does not rule out the possibility of working at other Premier League clubs despite claiming to really enjoy working with Real Madrid.
"I will go where people really want me and, when that moment arrives, they show me they really want me. But I have to repeat always this: I am at Real Madrid. I like very much to be. I want one day to be back in English football, yes. I always said that," The Independent quoted Mourinho as saying.
Apart from Real Madrid and Chelsea, the Portuguese boss has also found success with Porto and Inter Milan, helping the two clubs win many trophies including the prestigious Champions League. Mourinho also became only the fourth manager to win four domestic league titles in four different countries including Portugal (Porto), England (Chelsea), Italy (Inter Milan) and Spain (Real Madrid).
The former Benefica manager feels that the main reason behind his success is his ability to support and relish a particular club like a die hard fan.
"When I go to a club, I wear the shirt, I feel the shirt like it's my first one or my last one. I feel the fans as part of myself. I create eternal links with fans. I go to play against Chelsea and I feel (it), I go to Italy and I feel (it). I work for the clubs, I work for the people that trust me and of course the owners and the directors but the clubs are the fans," he added.
"For me, it's one of my qualities. I become immediately one of them and I feel that I am one of them with a privileged position to fight for the club and to try to bring to all of them happiness," he added.