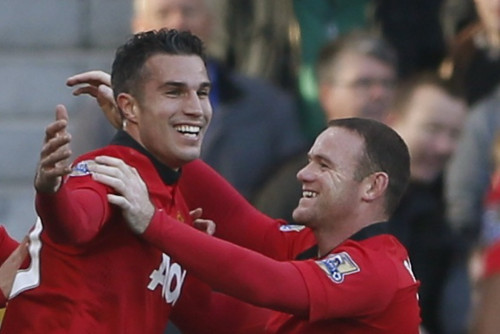 Manchester United will be without both Wayne Rooney and Robin van Persie for the Premier League trip to Chelsea, manager David Moyes has confirmed.
Rooney has been out since the New Year's Day defeat to Tottenham Hotspur with a groin problem while Van Persie hasn't featured for over a month due to separate toe and groin injuries which last saw him feature against Shakhtar Donetsk in the Champions League.
After spending time in Egypt to help correct the injury, Rooney has returned but is unavailable for the trip to Stamford Bridge while Van Persie should return to training next week.
"Wayne's come back, he's fresh but he's not ready for Chelsea," the boss told reporters.
"He's training, he's on the grass, doing some running and looking quite good. He's had a break, done a lot of strengthening work around his groin and hopefully enjoyed a few days in the sunshine as well. Hopefully he'll benefit from it, but not for this game.
"I don't want to put a date on it just now as I don't want to say he'll be fit for whatever game and then I find he's not, but we've just got to take it bit by bit. I've watched him running today; he looks well and is in really good condition.
"He's kept himself right and has worked with one of our fitness coaches, who travelled with him. Overall, we're pleased and just hope we can get him back as quickly as we can. He's an important player."
The United boss added added: "I'm hoping Robin has a good chance of training at the start of next week, so if I can get him back out on the grass and back with us, it'll be a great boost for us all," Moyes explained.
"He's a really important player and a player we've missed. But he's getting closer now and most of them are getting closer to fitness, so let's hope it's not too long until we get them back."
Danny Welbeck is therefore expected to lead the United attack upon the visit to west London, hoping to continue his impressive scoring run of six goals in his last nine appearances.
Chelsea boss Jose Mourinho, whose side are nine points better off than United, was hoping the attacking pair would be available for Sunday's clash.
"The best thing is to play against the best players, the concentration and motivation is bigger, so I hope they are there," said Mourinho.