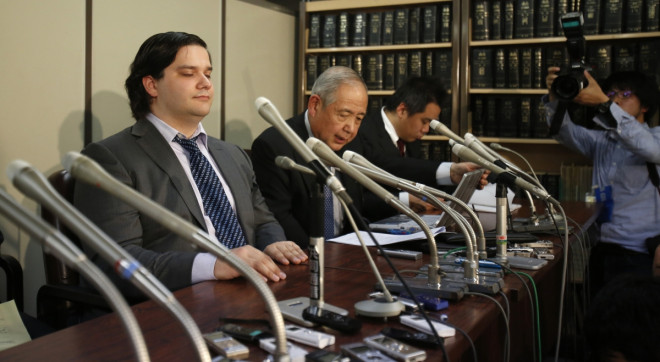 Bitcoin exchange MtGox operated for 19 days - and could have claimed over $1 million in fees - despite knowing "hundreds of thousands" of bitcoins were missing.
On 7 February last MtGox stopped all withdrawals of bitcoin from its exchange without explaining why, but in new evidence given by its CEO Mark Karpeles it appears the under-fire bitcoin exchange knew there was something seriously wrong but decided to continue to operate.
Despite being aware on 7 February that "hundreds of thousands of bitcoins" were missing due to "theft or disappearance" the Tokyo-based exchange continued to allow customers to buy and sell bitcoins which it may no longer have had.
The exchange went offline on 25 February, but for the previous 19 days MtGox would have collected fees from everyone trading bitcoins, which could have amounted to more than $1 million.
Deposition
The revelations come from a deposition given by MtGox CEO Mark Karpeles to authorities in the US as part of the exchange's filing for bankruptcy protection in the country.
MtGox has also filed for bankruptcy in Japan where it previously revealed the company had lost 750,000 bitcoins belonging to its customers along with a further 100,000 of its own bitcoins.
It was unclear until now when Karpeles and MtGox knew about the on-going cyber-attack it blamed for the loss of the bitcoins, but according to Karpeles, withdrawals were halted on 7 February due to "the theft or disappearance of hundreds of thousands of bitcoins owned by MtGox customers as well as MtGox itself."
This means that MtGox was aware bitcoins were missing yet it decided to continue trading for another 19 days without informing customers of what was happening and the possibility that it didn't have enough bitcoin to meet demand.
$1 million in fees
The exchange is facing class action lawsuits in the US and in the UK as customers seek some recompense - or at least a full knowlegde of what went on - from Karpeles and MtGox.
According to calculations carried out by Jeremy Kirk at Computerworld, the amount of fees collected by MtGox during this 19-day period - based on average trading levels and the price of bitcoin at the time - would have been around $900,000 at a minimum, and could have been much more depending on the types of trades taking place (lower volume trades attract higher fees).
However, as Kirk points out, as these fees can be collected in bitcoin as well as cash, and the bitcoin MtGox was selling may no longer have been there, it would mean fees collected in bitcoin were worthless.
Karpeles and MtGox have not commented on the amount of fees collected during this time, or on why the exchange kept operating after the 7 February when it was aware that "hundreds of thousands" of bitcoins were missing.