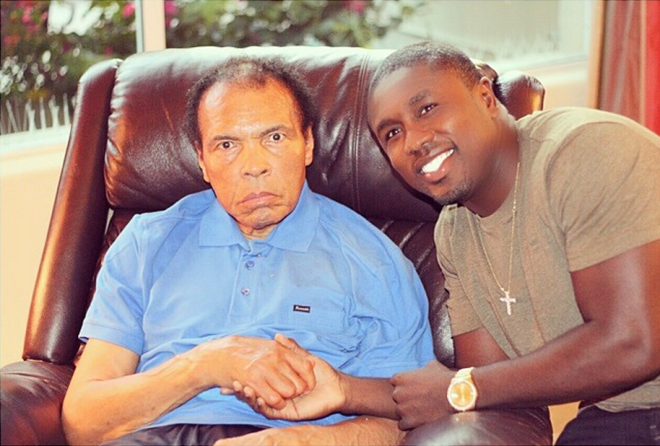 Muhammad Ali is arguably the greatest sporting legend alive today. He's a figure of athletic excellence, kindness and as Parkinson's disease continues to tighten his grip on him, tragedy.
A new picture of Ali shows a barely recognisable icon as he spends time with boxer Andre Berto watching a basketball game at Ali's home in Arizona.
Posted on Instagram, Berto says: "Yesterday I had the pleasure of spending the whole day with my idol THE G.O.A.T [greatest of all time] himself Muhammad Ali." He then added: "Just to be in his presence and feeling the vibes of true greatness was a life changer for me."
He later told TMZ that he had been watching Monday's NCAA Championship basketball game between the Kentucky Wildcasts and the Connecticut Huskies with Ali and his family. Berto says Ali and his family were huge college basketball fans and that they were "cheering left and right" for Kentucky, where Ali was born.
"I told him how honoured I was to meet him," continued Berto. "I told him I appreciate him for giving me the inspiration and motivation to be a boxer."
Ali also dished out some pearls of wisdom, telling the two-time Welterweight champion to "Stay focused on the task" and "Don't worry about the outside noise".
"It was definitely one of the greatest moments in my life," Berto said. "Probably the greatest moment in my boxing life. To feel those hands, see those hands... to feel that history. I think I got some of that good energy."
Last year Ali's brother Rahman Ali said that Muhammad had lost the power of speech and that his death could be imminent. He may still look frail but to hear of him dispersing pearls of wisdom and avidly cheering his home state basketball team on is certainly a good sign.