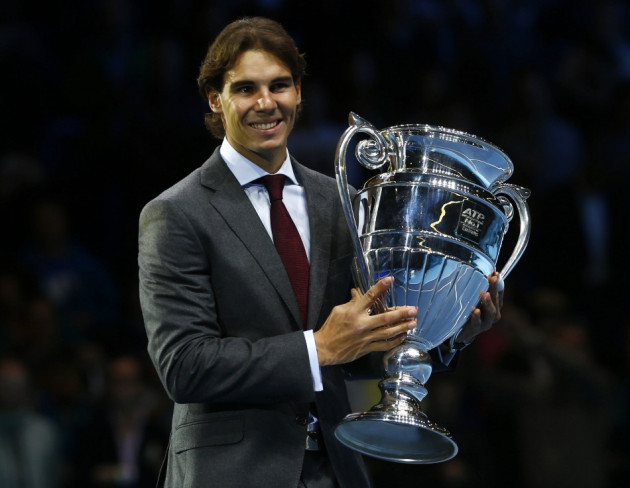 Rafael Nadal and Roger Federer renew their rivalry in the first semi-final at the ATP World Tour Finals at London's O2 Arena.
Where to Watch
Rafael Nadal v Roger Federer is live on Sky Sports HD3 and BBC Two HD no later than 2pm GMT.
Preview
Another chapter of among tennis' greatest rivalries will be inscribed into history as Rafael Nadal takes on Roger Federer in the ATP World Tour Finals last four.
Despite the pair being regarded as two of the greatest of all time, their rivalry is surprisingly one-sided, with Nadal having won 21 of their 31 meetings spanning nine years.
However, head-to-head meetings either in London, indoors or at the season ending tour finals have gone the way of Federer, who is chasing a seventh title this week.
Federer has prevailed in four of the duo's five meetings in the English capital and in all four of their previous meetings at the ATP World Tour Finals; also the scene of his indoor dominance over Nadal.
The Spaniard meanwhile has enjoyed a stunning return after seven months out injured, winning two grand slams at Roland Garros and the US Open and reclaiming world No.1 from Novak Djokovic.
The season ending tour finals represents the only major title absent from Nadal's CV and despite downplaying his chances in the lead up to the tournament, the 26 year old won all three of his round robin matches.
After enduring a difficult 2013, without a grand slam title for only the second year since 2002, Federer has undergone a revival during the twilight of the year, reaching the semi-final of the Paris Masters before beating Richard Gasquet and Juan Martin del Potro this week.
With tickets on online exchanges websites changing hands for as much as £2,000, Nadal-Federer still remains among sport's most sought-after clashes, not least due to the uncertainty surrounding how long each player has remaining on tour.
What they said
Rafael Nadal: "Federer knows very well how to beat me, in this surface especially. The only way to win the match in the semifinals is playing my best match, playing fantastic tennis. That's what I going try.
"That's the goal that I have to do, the thing that I have to work on."
Roger Federer: "I just have to have the right mindset to give it one last go, maybe play with a little less pressure than I have in previous matches maybe with him. I don't know.
"I just feel like I need to look at it more as being an underdog a little bit because of circumstances, because of my year, because of his year. Maybe that free swinging is what I kind of need to do a little bit more tomorrow."
Day 1 review: Wawrinka and Del Potro clinch opening wins
Day 2 review: Nadal thrashes Ferrer as Djokovic Outlasts Federer
Day 3 review: Nadal secures world No.1
Day 4 review: Djokovic powers through as Federer Retains Hope
Day 5 review: Wawrinka sets up Djokovic semi-final
Day 6 review: Federer books Nadal clash