Football hooligans smashed up a restaurant and attacked a man ahead of a Champions League match between Arsenal and Napoli.
Up to 50 people, reportedly Napoli supporters, went on the rampage through Piebury Corner restaurant, leaving a 48-year-old man in hospital.
Windows were smashed, chairs thrown and the shop was forced to shut its doors by the incident.
Piebury Corner restaurant owner Paul Campbell described the attack, which happened around 45 minutes before kick off, as "completely unprovoked."
He told the Mirror: "We have had Napoli fans inside all day, they have been having a good time and not bothering anybody at all. They have been no problem.
"Then we had a minority of them come in, being violent, picking up chairs and tables.
"There were three girls sat near me and these thugs just came in and grabbed the chairs from under the girls.
"It was completely unprovoked, I think they just picked us at random because they saw a busy restaurant and they wanted to fight someone - anyone."
Football hooligans in Italy are known as Ultras. Inside the Emirates stadium, several of them were pictured giving the one-armed fascist salute.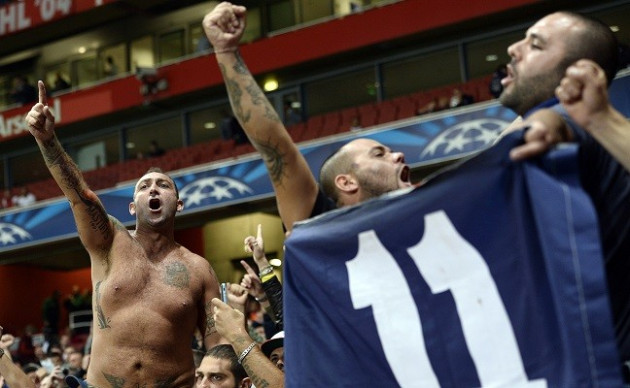 A Scotland Yard spokesman said nobody had been arrested over the violence at Piebury Corner.
He said: "One man suffered injuries and was taken to hospital. We await an update on his condition. No one has been arrested in connection with the incident.
"One man was arrested as part of the policing operation on suspicion of a public order offence."
Arsenal beat Napoli 2-0 in the group match with first half goals by Mezut Ozil and Olivier Giroud.