Napoli president Aurelio De Laurentiis has revealed the club are open to a deal with Manchester City that will see Edinson Cavani move to the Premier League club with Edin Dzeko heading in the other direction.
Laurentiis also played down speculation that the club have lined up Chelsea interim manager Rafa Benitez as a replacement for Walter Mazzarri, who stepped down from his post after leading the club to a second placed finish in Serie A.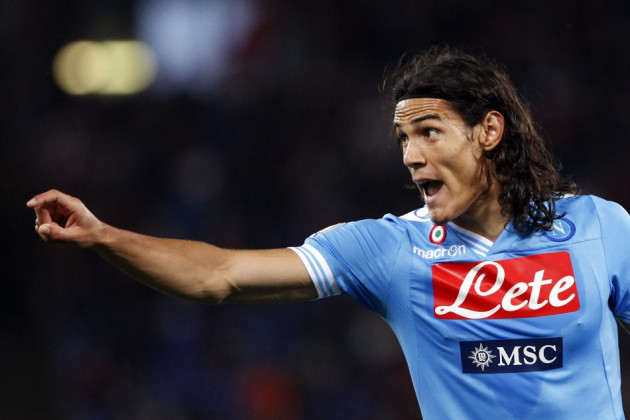 After surrendering their Premier League title to Manchester United and parting ways with Roberto Mancini, an extensive summer of restructuring is expected at the Etihad Stadium.
A goal shy season for City, where they scored 27 less goals than in their league winning campaign in 2012, has suggested that the club will be in the market for a high profile forward this summer, with Uruguayan international Cavani certainly fitting that bill.
Amid speculation suggesting City will meet the striker's €63m release clause, Napoli's outspoken president revealed he was in London yesterday to address another of his ventures, the film business, before admitting talks regarding a swap deal had begun.
While confirming that he was in the capital on cinema business, Laurentiis also dispatched the club's sporting director Alberto Bigon to Manchester to open talks with the manager-less City.
"I told Bigon, go to City and take the chance to negotiate over Dzeko and see what they are willing to do for Cavani," Laurentiis said ITV Sport report.
"Who will be the new coach? I don't do things in a hurry. I'm trying to understand who will be the people to accompany me in the next journey."
The Napoli president was playing down reports suggesting he had travelled to London to conclude a deal with Benitez's representatives. The former Liverpool and Inter manager is set to leave the Blues after leading them to Europa League success, but Laurentiis was adamant there had been no talks.
"I did not go to London for Bentiez," he added. "You would have me appointing 15 coaches: it's true, I've heard them all in the last six months and I'm aware."