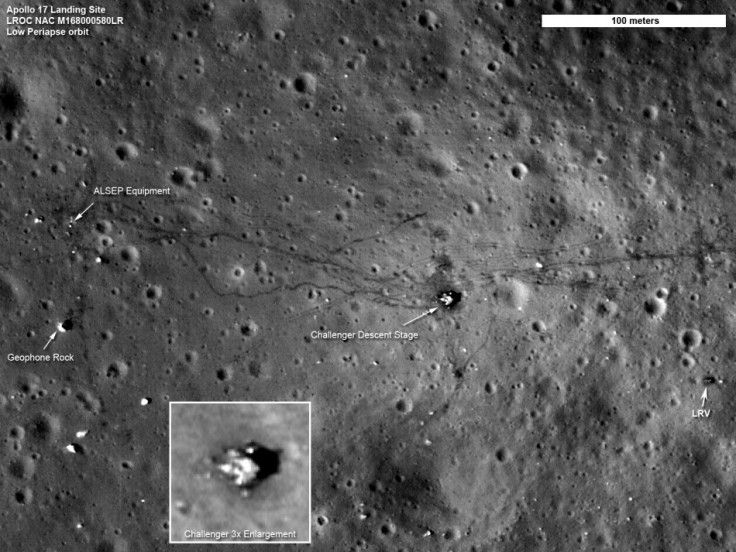 NASA's Lunar Reconnaissance Orbiter has captured three new high-definition images of the Apollo moon landing sites.
While orbiting the moon, the spacecraft captured the clearest images ever seen of the Apollo 12, 14 and 17 landing sites. The high clarity of the images not only shows the tracks laid down by the Apollo 17's lunar rover, but also the boot tracks left behind by the last astronaut to walk on the moon in 1972.
The images were taken after NASA scientists adjusted the LRO's orbit in August. The move saw the LRO's orbit distance from the moon's surface decrease from 31 miles to levels as low as 13 miles.
"The new low-altitude Narrow Angle Camera images sharpen our view of the moon's surface," commented Arizona State University researcher Mark Robinson, principal investigator for the Lunar Reconnaissance Orbiter Camera. "A great example is the sharpness of the rover tracks at the Apollo 17 site. In previous images the rover tracks were visible, but now they are sharp parallel lines on the surface."
The three images released Tuesday are one of a number taken by the LRO. The spacecraft has reportedly stayed in the moon's orbit for 28 days, remaining at its lower orbit until it has captured images of a full lunar rotation.
The scientists said the tracks survived so long thanks to the slower erosion process on the moon. Eventually, as a result of the micrometeorites constantly hitting the moon's surface, the tracks and equipment left by astronauts would eventually disappear.