American-Israeli actress Natalie Portman is facing an angry reaction for her decision to film the adaptation of Amos Oz's A Tale of Love and Darkness in an ultra-Orthodox Jerusalem neighbourhood.
Portman, who is making her directorial debut and also stars in the film, reportedly checked with the Jerusalem Municipality about the filming in the ultra-conservative part of Nachlaot neighbourhood.
However, officials did not inform the residents who wrote a letter complaining that the video feature will take place near synagogues and yeshivot learning institutes.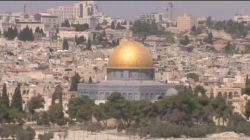 "The scenes being filmed should have been examined first to make sure they don't offend anybody's sensitivities," the letter stated.
The municipality has guaranteed that the actors will be dressed modestly. Haredi residents have already sprayed graffiti against what they call the "foreign invasion" of the neighbourhood, according to Haaretz news site.
"There is a constant tension between the desire to celebrate diverse and interesting Jerusalem and the attempts by extremist groups to prevent this," Deputy Mayor Rachel Azaria said.
"The attraction of the city, its unique architecture and the efforts of the film and television industry will triumph," she vowed, "and the cinematic growth we've seen in Jerusalem in recent years will continue to flourish also tomorrow with Natalie Portman in Nachlaot."
Portman, 32, was born in Jerusalem and is married to French dancer and choreographer, Benjamin Millepied, who recently announced he is in the process of becoming a Jew. Both are in Israel with the baby Aleph for the filming of Amos Oz's adaptation.
Oz agreed to concede Portman the rights to the novel six years ago because of his "high esteem for her work". The Star Wars and V for Vendetta star will play Oz's mother and will speak Hebrew in the film.
Portman received NIS 1.6 million (£274,000) from the Jerusalem Development Authority to make the film in the capital.