U.K. consumer confidence dropped in February as Britons were more worried about their jobs and weak economic growth, according to the latest survey released by the Nationwide Building Society.
Nationwide consumer confidence index dropped to 44 in February from 47 in January, more than 30 points below its long-run average. The economists expected a rise in the index to 49, the decline was broad based with weakening consumers' assessment of the current economic situation, the future and their willingness to spend.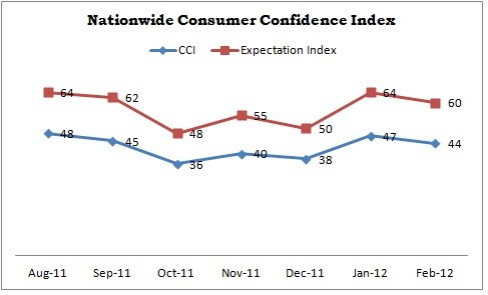 The expectation index slipped to 60 in February from 64 in January 2012.
While commenting index performance, Nationwide Economist Robert Gardner said: "After showing signs of cautious optimism at the start of the year, consumer confidence slipped back in February. Weak labour market conditions combined with weaker-than-expected economic growth are continuing to weigh on confidence."
U.K.'s unemployment rate stood at a 16-year high of 8.4 percent in the three months to January.