A battery-powered car has broken the UK electric land speed record at Elvington airfield near York with an average speed of 151.6mph.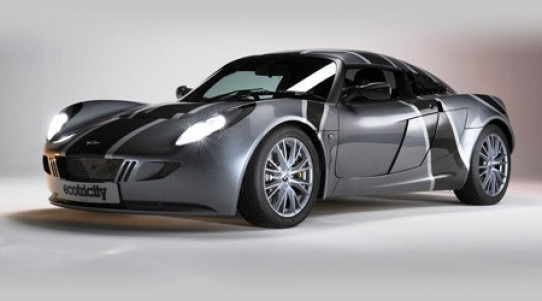 Beating the old record by 14.6mph, the highly modified Lotus Exige was built by utility company Ecotricity and was driven by estate agent and kart racer Nick Ponting, 21.
Costing £750,000 to develop and powered by two 125kw electric motors fed by electricity generated from wind turbines, Nemesis has 336bhp, but performance is limited by the 200kg battery pack.
Ecotricity founder Dale Vince said the Nemesis was built to "stimulate thought and debate about how we'll be getting around when the world runs out of oil. And what we've been able to demonstrate is that wind-powered cars are not just feasible, but can be a load of fun."
Electric cars are often criticised for being run on electricity generated by gas- and oil-fired power stations, considerably undermining their green potentials, and when environmental impact for the life of the car - including production - is compared to regular combustion-engined cars, the difference in pollution is minimal.
Its developers claim the Nemesis can accelerate from 0-100mph in 8.5 seconds and they are confident that, hypothetically at least, the car could achieve more than 200 miles per hour.
Ponting told the BBC: "It was brilliant. The car felt really good. The conditions were perfect. We've smashed the record and then gone and done a second run and done it again.
"The acceleration is phenomenal. It gets to the top speed very quickly."
Thanks to often having just one or two forward gears and maximum torque available instantly, electric cars offer impressive acceleration that is smoother and more consistent that petrol and diesel cars.
When driven more sedately, Nemesis can cover up to 150 miles between charges, slightly more than most consumer electric cars on sale in the UK, such as the Nissan leaf which manages around 110 miles.
Vince added: "We made a number of modifications to the road-legal specification of the car to give it more downforce at higher speed."
Nemesis is unlikely to ever go on sale, but with high-performance electric cars such as the Tesla proving popular, and with manufacturers looking to work more with hybrid power using electricity and petrol combined, the future for electric cars is one that seems more plausible than ever.