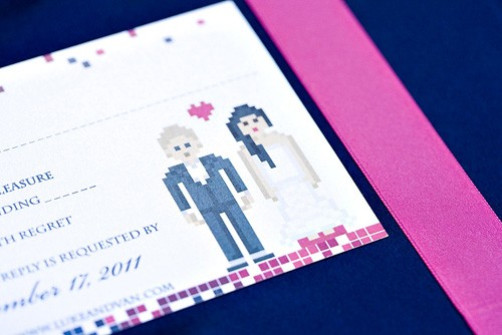 Male geeks have over the years had to face jokes and jibes in society about being girlfriendless recluses and possessing the charm of a wet haddock and the closest they would come to getting married is to the cybernetic bot.
However, by possessing a ferocious imagination and passion for all things sci-fi, fantasy, graphic novels and gaming (and of course the power of the internet) Geek Speak finds that when they do find their Princess Leia to their Han Solo, their Silk Spectre to their Night Owl (and so on); the sky is the limit.
Geek Speak takes a look at some of the most "IMBA" geek proposals on the internet.
1. Pokemon Fan: New York Comic Con Flash Mob
Now this chap is just delightful.
After taking his fiancée on a first date to assess her tolerance to his "geeky tendencies" in 2009, he decided to organise a mass flash mob with New York's Comic-Con staff and friends to propose to her at the 2011 convention.
The video will warm the coldest heart and the sight of seeing Jango Fett break-dancing is something of wonder, so it's forgivable that he used Bruno Mar's Marry You song as the backdrop.
However, even more epicly, he proposed dressed as Ash Ketchum and displayed his ring in a pokeball.
To round off the story, they even won Brides 2011 Proposal Awards and won the grand prize of a honeymoon to Fiji.
2. World of Warcraft Fan: 'Binds on Equipped'
OK, so the opening is slightly awkward but nothing says "bind on equipped" or "soulbound" than this World of Warcraft (WoW) fan who proposes to his girlfriend in the middle of a cosplay competition.
Apart from the fact that she looks like she is trying to find an exit while he ambushes her on stage, she says yes and hundreds of onlookers cheer and applaud.
"Is something epic afoot?" asks the voice?
Yes. Yes there is.
3. Michael Bay Fan: Movie Theatre Trailer and Proposal
Ever been sitting in a movie theatre weeping over your soggy cheese and nachos and stale popcorn at the gloriously soppy antics in the movies?
No? Just me?
OK, well for one girl, fantasy became a reality when this guy paid a movie company to write, direct and produce a movie trailer that involves him in an action storyline.
Through several minutes of action sequences that would make Michael Bay blush, he surprises his girlfriend in the audience at the end of the trailer with the proposal on screen and surprises her in the theatre.
4. 8 Bit Fans: Getting Mario-ed
Nothing says "I love you" than adapting existing computer games and secretly filming the reaction in the comfort of your own home.
For the resident nerd, the set-up seems to be a big hit for gaming couples.
Here at Geek Speak, the following videos are our favourites.
Not only does the effort of executing such a move take a really long time, but we particularly loved this video for the fact that the girl immediately goes back to playing Super Mario after the proposal.
The dog does seem somewhat more excited than both of them put together.
Apart from being ridiculously dressed up to be playing Earthbound at home, the initial speechless reaction from the proposal is priceless.
Lianna Brinded is senior business reporter for IBTimes UK