Apple is said to be preparing major updates to the iPod nano and touch ahead of a September launch, which will see the iPod touch adopt a larger 4in screen, and the nano get an all-new design and Home button.
KGI Securities analyst Ming-Chi Kuo has provided a comprehensive look at what we can expect from Apple over the coming months, with the iPod touch to share a larger 4in display with 'in-cell' technology, as is predicted to feature on the new iPhone.
In a note sent to investors, Kuo states that the new iPhone and iPod touch will be announced in late September, a claim supported by Japanese Apple blog Macotakara, which adds that the touch will share its internals with the iPhone 4S.
With rumours of the iPhone 5 - or whatever Apple decides to call its next smartphone - circulating for over a year, Kuo predicts that the company will struggle to meet demand. Compounding this will be the adoption of the new 'in-cell' screen technology, which combines the screen and touch-sensitive overlay into one piece.
"iPhone 5 to debut in September. But due to in-cell touch panel and casing yield rate limits, ability to offset older models' shipments decrease will be moderate," Kuo writes in his research note.
Apple chose not to update the iPod touch last year, preferring instead to introduce a white version and lower the price of the cheapest model, so a major update this time around would make sense.
A speed bump from the A4 to the iPhone 4S's A5 processor is on the cards, along with a new design and MacBook-style "buffed aluminium" finish to the rear case, replacing the current touch's reflective (and scratch-prone) back.
If Kuo is to be believed, then the new iPod touch will kick off a busy fourth quarter for Apple, with the highly anticipated new iPhone, an iPad mini, 13in Retina MacBook Pro and even updates to the iMac range all due before the year is out.
Finally, Kuo states that the iPod nano is also due a major overhaul, with the MP3 player ditching its current square form and going back to a tall rectangle design, but this time with a larger touch screen and iPhone-style Home button.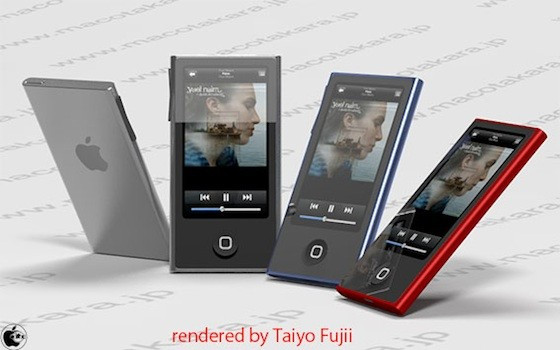 Kuo claims that iPod touch shipments will start off slow, due to the 'in-cell' screen technology, leaving the new iPod nano to pick up the slack.
"Though all new design iPod touch and iPod nano will be launched, growth momentum will mainly come from the latter. The new iPod touch, like iPhone 5, uses in-cell panel, whose availability is limited in the initial stage. Shipments will therefore be hindered," Kuo told investors.
As ever, Apple refuses to comment on unannounced products, so you'll have to file this under rumour, but what we do know is that iOS 6 will be released in the autumn, which will pave the way for a new iPhone and iPod touch.