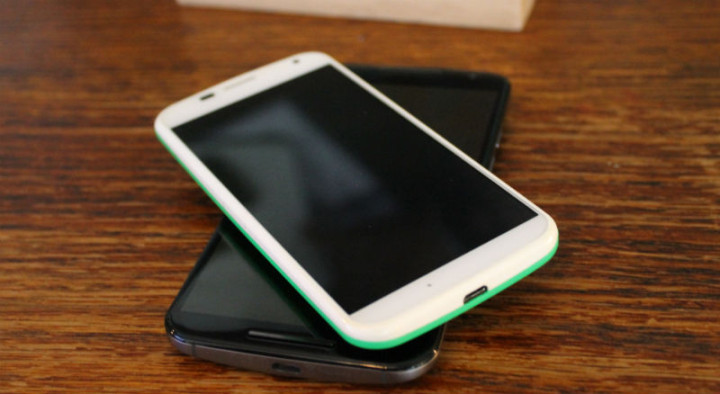 Motorola, which launched a series of new technology products in the last couple of months, has now announced that these new products will be up for pre-ordering in the United States starting 16 September, Tuesday.
Most prominent and highly anticipated products among Motorola's new technology offerings include the new Moto X, Moto 360 Wearable (second round of sales) and the bloatware-free Moto X Pure Edition smartphone, apart from other products such as Motorola's Turbo Charger (that is claimed to give smartphones an eight-hour battery life, on only a 15-minute charge) and the Motorola Hint wireless 'ultra-slim' wireless ear phone.
Those of you residing in the United States can pre-order the above Motorola products from 11 am, on 16 September.
Pre-order prices of Motorola's new offerings:
New Moto X: The new Moto X (not the pure-edition) aka Moto X 2014 aka second-generation Moto X, will be offered by America's premier wireless service provider AT&T, for a price of $100 with carrier contract.
Moto X 'Pure Edition': Being a bloatware-free smartphone, Moto X 'Pure Edition' will be available for pre-order, and will cost $500 (network unlocked).
Turbo Charger by Motorola: Custom-made for those owning Motorola smartphones, and for cell-phone users constantly complaining about the battery within their devices dying out relatively early, Motorola's Turbo Charger can be considered as an ideal smartphone accessory. "All it takes is 15 minutes on the latest Moto phones to get up to 8 more hours of battery life. Other USB-enabled phones and tablets enjoy up to 15 watts of blazing fast charging speed," states Motorola on its official website. The gadget will be up for pre-ordering on Tuesday, and will cost you $35 to pre-book.
Moto Hint: The Moto Hint ultra-slim wireless ear-phone allows you to use your Moto X (by pairing), and make use of voice commands such as "What's today's forecast?" or "How do I get home?", and obtain answers for these commands (via voice). You can also hear notifications, make calls, and send messages without having to touch or look at your phone. Moto Hint will cost you $150.
Where do I pre-order from? And what is the expected shipping date?
All of the above products will go up for pre-orders on 16 September, Tuesday, at Motorola's official US online –portal. Click here to navigate to the portal now, and check out pre-ordering.
The New Moto X will also be available for pre-ordering from AT&T.
However, shipping dates of the above products have not been confirmed yet by Motorola, and these dates are expected to differ based on the product(s) pre-ordered.
Moto 360 smartwatch back on sale
Along with the above Motorola gadgets, the company has also officially stated that fresh stocks of its popular Moto 360 smartwatches will be available for sale in the United States starting 16 September. Click here to order your device.
Motorola's Trade-In offer:
Custom-made for those preferring to buy a customised Moto X by Moto Maker, Motorola is offering a 'Motorola Visa Prepaid Card' worth $300 based on your old Moto X device, thereby enabling you to buy a 'new customised Moto X'.
More details regarding Motorola's Trade-In programme can be obtained by clicking here.