Health monitoring via mobile technology is the latest trend to have taken today's digital world by storm. Be it certain health monitoring apps that allow you to monitor your own health, fitness and diet aspects, or inbuilt device functionality such as heart-rate monitoring and fitness trackers that come by default within Wearables from Samsung and Google.
Health/fitness monitoring technology has in fact become the latest buzzword, and various technology giants are busy in developing customized products that offer health-related functionality (health monitoring and disease detection), for people across the world.
Now, in yet another health-related technology innovation, a US based company called AliveCor has developed a portable heart monitor and app. This app can record the behaviour of someone's heart to help prevent further health problems.
The US Food and Drug Adminstration (FDA) has approved AliveCor's heart monitor and heart monitoring mobile application, along with the company's technology that detects atrial fibrillation (AFib) which is said to be the most common form of cardiac arrhythmia.
"The ability to automatically detect serious heart arrhythmia using mobile technology has the potential to save lives, reduce healthcare costs and allow patients and their caregivers to make informed decisions about cardiac care." stated Mr Euan Thompson, president and chief executive of AliveCor, in a news release.
"Having achieved clearance, we will work to incorporate the algorithm in our app and plan to make this available to customers during September.", added Mr Thompson.
AliveCor heart monitor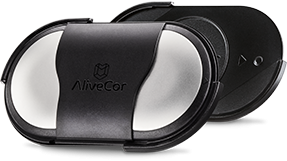 Costing $199, the AliveCor heart monitor is designed to fit on most mobile phones, include the iPhone 5C and iPhone 5S.
The heart monitors can be held in your hand or across your chest, so that your ECG is recorded by the built-n algorithm.
This proprietary technology obtains picks up electrical impulses from the users' fingertips and converts these to ultrasound signals, which are transmitted to your mobile phone's microphone, and are recorded by the AliveECG app.
Open for Purchase
AliveCor heart monitor is made for patients with heart conditions, healthcare professionals, and can be purchased online at the official website of the company.
The heart monitor works in sync with almost all major Android smartphones and iPhone variants.
iPhone app
AliveECG is an iPhone application developed by AliveCor, and the app is available for download to users of Apple iPhone running iOS 5 and above.
The application requires you to possess the AliveCor heart monitor, which needs to be installed on your phone, to record your ECG.