Newcastle United boss Alan Pardew has been charged by the FA (Football Association) with misconduct following an incident involving the 51-year-old manager pushing assistant referee Peter Kirkup during his side's 2-1 win over Tottenham Hotspur at St James Park.
The former Southampton manager was asked to go to the stands by referee Martin Atkinson after Pardew shoved Kirkup, when he refused to give a throw-in in favour of the Magpies.
Although Pardew immediately apologised, saying that his behaviour was "ridiculous," the former Reading boss faces a touchline ban and a fine for his actions. The FA will wait till 25 August for Pardew's response before announcing their verdict. Although Pardew is reportedly all set to accept the FA's punishment (which will probably be a two-match touchline ban), the boss may be given a lighter punishment because of his genuine apology right after the final whistle.
"I don't know what came over me. It was silly. It was 100% stupid. It was ridiculous. I'm still embarrassed by it. I've never doing anything like that before. I'll have to take my punishment," The Guardian quoted Pardew as saying.
Also, Pardew says that he did not set a very good example to the players after lecturing them about the conduct in the 2012 London Olympics
"I was saying to the players about the great Olympics and how to set an example and there's me pushing the linesman over. It was comical. He just happened to be right in front of me," he added.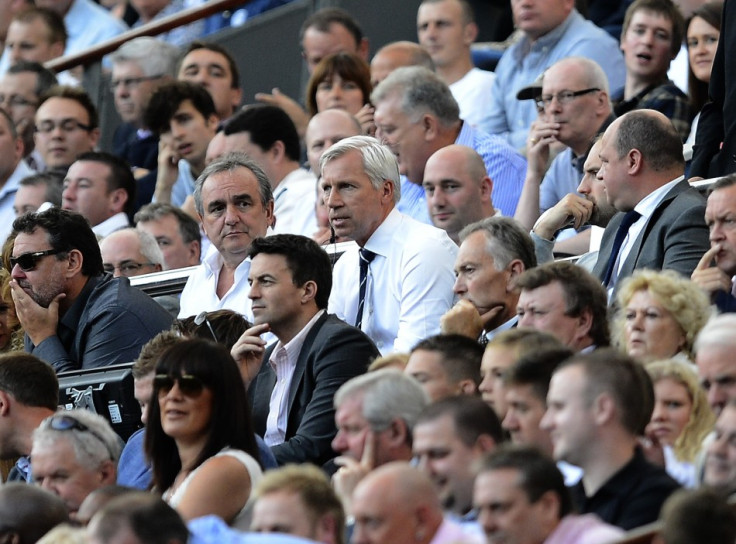 Meanwhile, Pardew praised striker Bemba Ba's performance against the Spurs, saying that he always believed in the Senegalese international all along despite the former West Ham man having a six-month goal drought.
"It probably was important for Demba but only in terms of goalscoring. He has been brilliant for us when we have asked him to play on the side and he has done it again today and come up with a goal," Sky Sports quoted Pardew as saying.
"It was the first game of the season today and I think it just showed that sometimes it is character and spirit that can win through. We had to match what Spurs were doing, we changed things at half-time and I thought we just about edged it," he added.