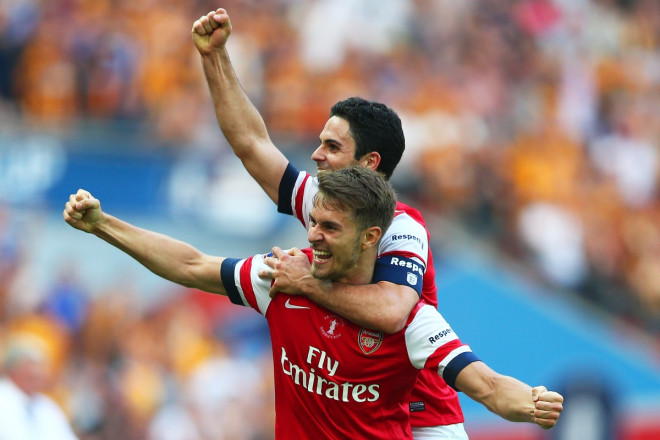 Newcastle United had scuppered the chance to sign Arsenal sensation Aaron Ramsey from Cardiff as a 15-year-old, according to the Daily Express.
The Welshman, who has been in brilliant form this season, could have been plying his trade at St. James' Park if the Magpies had paid Cardiff £500,000 to sign him as a 15-year-old.
Failure to do so meant that top clubs by the likes of Manchester United and Arsenal swooped in for the player in two years' time and agreed a fee of £5m.
However, the Welshman chose Arsenal as Arsene Wenger convinced him of the club's long-term future and his role as a central midfielder.
A Newcastle source confirmed that Newcastle's Wales scout, Neil Bartholomew is still rankled by the club's decision to not pay the nominal fee and miss out on one of the most promising players of the current Welsh contingent.
In the meantime, the player helped Arsenal win their maiden trophy in over nine years as he scored the winning goal, which secured the Gunners the FA Cup.
"The annoying thing is that the young lad was keen to sign and it would only have cost £500,000. Look at what he must be worth now," the source said.
"Our Welsh scout Neil Bartholomew kept on raving about him. You can imagine how hurt he has been at the move not happening with Newcastle," he added.
Meanwhile, Ramsey confirmed in an interview that Wenger was the reason behind him choosing Arsenal as he snubbed Sir Alex Ferguson to make his way to the Emirates.
"I felt more wanted here [at Arsenal]. By that I mean they did more things to try to get me. They had a plan set out for me and knew exactly what they wanted to develop me. The sort of thing they said was 'You can improve on this' and 'This is what you are good at, so we will do this'," Ramsey said.
"I think that the boss here has brought through a lot more youngsters and given them opportunities on a more regular basis. And that is what he believes in, picking out talented young players and turning them into great players so hopefully I can be in that category," he added.