Alan Pardew has urged his Newcastle United side to end their season in style against Arsenal this Sunday and get a result that could threaten the Gunners' Champions League hopes.
The Magpies welcome Arsene Wenger's side to St James' Park on the final day of the season while Sunderland travel to take on Tottenham Hotspur in two games that will decide which of the north London rivals clinches the final Champions League spot.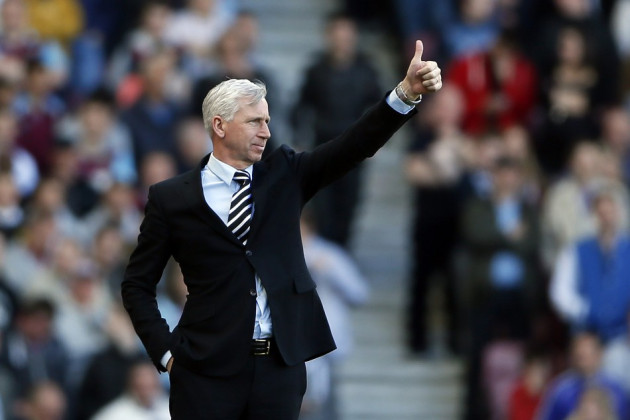 Arsenal will take fourth spot should they match or better Tottenham's result at White Hart Lane, but Pardew has warned his side are desperate to end their season on a high.
Newcastle fans have watched on in despair in the club's last two home games as their club succumbed to a 3-0 defeat to Sunderland before a 6-0 hammering at the hands of Liverpool, and the former West Ham United and Southampton boss is eager to set that right.
Despite securing their Premier League survival with a win over Queens Park Rangers last weekend, the Newcastle manager wants his side to "put on a show" this weekend, as the Toon did against the Gunners in their incredible 4-4 draw two years ago.
"When we drew 4-4 we saw some electrifying play that day - we want that level of excitement again, without the mood swing of course," Pardew told The Chronicle.
"We want to get a result this time, and we need to send our fans home in a better mood than the last two games."
After finishing fifth last season, Newcastle have endured a calamitous third season back in the Premier League and until last week, the club were in serious danger of being relegated back to the Championship.
But victory at Loftus Road, just their second win since early March, secured their Premier League status, something that will give Newcastle an immeasurable boost heading into the Arsenal game, Pardew believes.
"It was a huge lift, not just for the players but just as importantly the staff, with us being safe.
"Now we can really focus one game. We can play without any inhibitions, unlike against Liverpool. That's important.
"We want to win the game for our fans, who have been magnificent."
After Newcastle's survival was confirmed last week, Wigan Athletic's 4-1 loss to Arsenal midweek confirmed they were the last team to fall out of the Premier League, ensuring Sunderland's survival in the process.