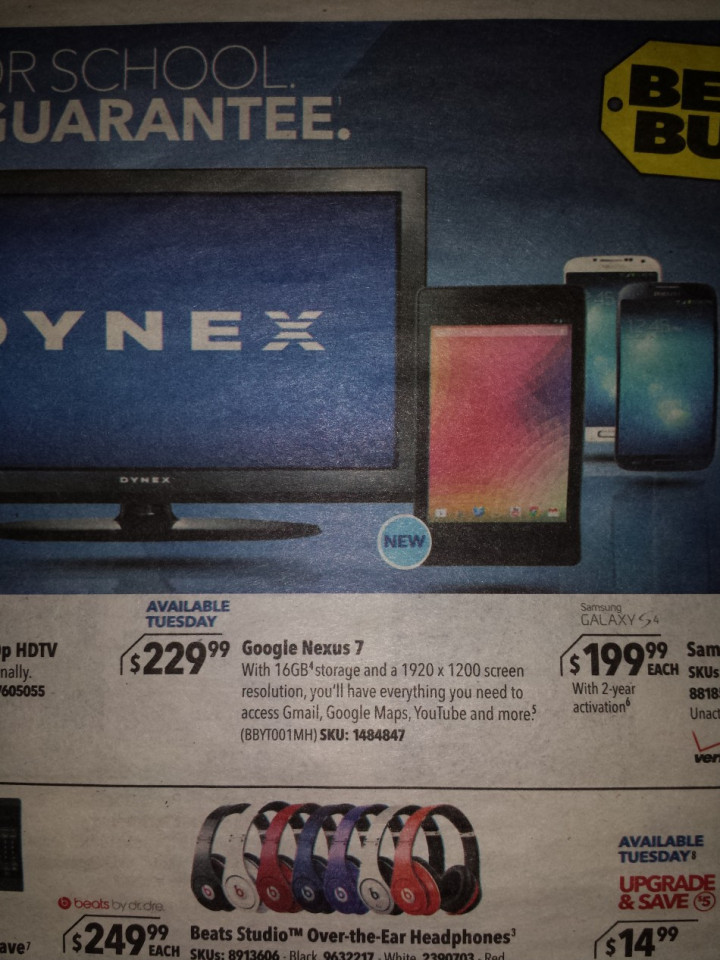 The Second generation Nexus 7 is in the spotlight lately, as a spate of rumours surrounding its leaked specifications and release date has surfaced online. Recently, an anonymous tipster revealed a Best Buy flyer with advertisement to Phone Arena, which speculates the next-gen Nexus 7 release date as 30 July (a day earlier than Staples).
Earlier, it was speculated that Staples would be the first retailer to sell the tablet starting 31 July.
Release Date and Availability
In related news, various sources linked to Google have hinted that the company is likely to unveil the 7in Nexus tablet at its upcoming press event in New York on 24 July. The retailer availability of the tablet is also expected to be announced the same day as the event.
The latest rumour claiming the 30 July release for Best Buy gains credence as the leaked Best Buy flyer clearly shows that the tablet will be available from Tuesday. Phone Arena also suggests that the Best Buy Ad will go live on 28 July (Sunday), which adds credence to the release date rumour.
Price and Features
The Best Buy flyer depicts a 16GB model of the Nexus tablet on sale for £149 ($229), starting 30 July. On the contrary, several other sources suggest the device will sell at the same price point as its predecessor: 16GB model at £130 ($199), 32GB model at £162 ($249) and £195 ($299) for the 32GB variant with Wi-Fi and 3G.
The rumour should be taken with a pinch of salt as there is still no official word on its release date from Google and earlier rumours suggested the device would first launch in Taiwan (by end of July) followed by other countries.
Given the leaked specifications of the next-gen Nexus 7 till date, it is ascertained that the tablet will retain the same 7in display as its predecessor, while ramping up its display resolution to 1,920 x 1,200 pixels from 1,280 x 800 pixels of the previous model. In addition, the second generation Nexus 7 will be the first device to run Android 4.3 Jelly Bean out of the box.
Other key hardware changes to the new Nexus 7 configuration include: the switch from Tegra 3 processor chipset to Snapdragon S4 Pro from Qualcomm (powered by a quad-core 1.5GHz Krait CPU and Adreno 320 GPU); RAM gets upgraded from 1GB to 2GB (some rumours suggest an upgrade to 4GB); and, unlike its predecessor, it will ship with two cameras - a five megapixel rear camera and a 1.2 megapixel front camera.