Vikings vs Steelers: NFL Comes to London but Could Wembley One-Day House Its Own Franchise?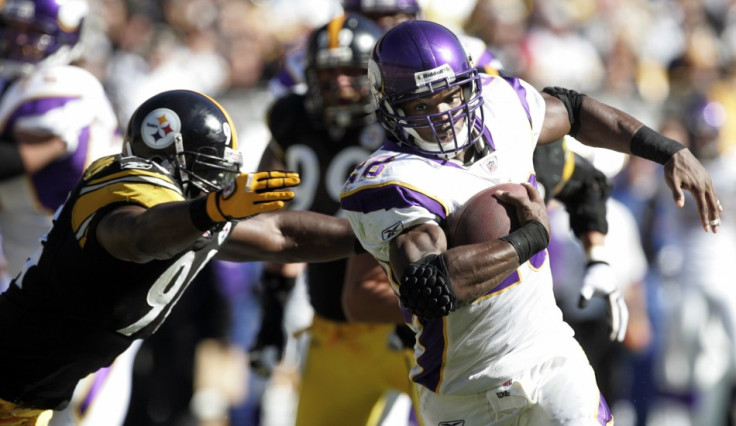 When it was announced in October 2012 that Minnesota Vikings would play the Pittsburgh Steelers at Wembley there was a sense of anticipation as two of the truly great teams in NFL history would be on display in London.
Both sides have glorious pasts with the Steelers proudly claiming the most Super Bowl titles (six) and the most appearances (eight), while the Vikings have played in four Super Bowls and last season reached the play-offs thanks in large to having the league's MVP on their roster in running back Adrian Peterson.
However, both sides have endured a miserable start to the season and currently boast unenviable records of 0-3. There has been even more emphasis placed on this game and both sides will be desperate to claim their first victory in front of a sell-out crowd of 84,000 at Wembley Stadium.
It is the seventh time that the International Series, which began in 2007, has made the trip to London and fans will have the opportunity to watch probable hall of fame quarterback Ben Roethlisberger in action. The 6ft 5", 241lb former Miami college star will surely go down as one of the all-time greats and will be hoping to orchestrate proceedings on Sunday.
The Vikings will hope that Peterson can produce the goods and help the team find that elusive first victory. The 28 year old rushed more than 2000 yards last season, to fall just short of the record held by Eric Dickerson that was set back in 1984. If he can find holes in the Steelers defence then watch out for some spectacular rushing touchdowns.
While both sides have spoken about the importance of gaining a victory, much of the pre-game talk has been about whether there could one day be a NFL franchise based at Wembley. Players, coaches and respected journalists have given their take and Roger Goodell, the NFL commissioner, has become increasingly keen on the idea.
Vikings place-kicker Blair Walsh says much depends on the logistics: "I could see it working if the right parameters were set up. The schedule would have to be conducive for the team to play more than one away game every time they went to America but I could see it happening. I think the fans would be very passionate and I think you could really attract players here."
Interest has certainly risen over the last five years and there is a growing sense that we could one day see a franchise based in this country. With Manchester's own Menelik Watson gaining a contract with the Oakland Raiders and former British Olympian Lawrence Okoye now with the San Francisco 48ers, more Brits are being encouraged to take up the sport.
The discussions are likely to continue for a number of years so for now British fans will have to be satisfied with the one-off occasions at Wembley. But with interest continuing to grow and support coming from high ranking officials it seems one day Wembley may well become the new home of football.
© Copyright IBTimes 2023. All rights reserved.